Intel to ship 34nm SSDs
Press release; Jessie Shen, DIGITIMES
Intel has announced a new lineup of NAND flash-based solid state drives (SSDs) that utilize 34nm multi-level cell (MLC) NAND flash memory, and said the move to the more-advanced process will help lower prices of the SSDs by up to 60% thanks to the reduced die size and advanced engineering design.
The Intel X25-M mainstream SATA SSDs come in standard 2.5-inch and 1.8-inch sizes, and are available in 80GB and 160GB versions. The new SSDs will begin shipping on 34nm flash memory later in the third quarter of 2009, according to the company.
"Our goal was to not only be first to achieve 34nm NAND flash memory lithography, but to do so with the same or better performance than our 50nm version," said Randy Wilhelm, Intel vice president and general manager, Intel NAND Solutions Group.
Intel said its new X25-M on 34nm is drop-in compatible with the current 50nm version, and offers improved latency and faster random write inputs/outputs per second (IOPS). Compared to approximately 4,000 microseconds for a hard disk drive (HDD), the new 34nm SSD operates at 65-microsecond latency and provides a 25% reduction in latency.
Random write performance increases twofold, further separating the X25-M from other competing SSDs, according to Intel. It delivers up to 6,600 4KB write IOPS and 35,000 read IOPS, compared to HDDs that only operate at several hundred IOPS.
New channel prices for the X25-M 80GB are US$225 for quantities up to 1,000 units (a 60% reduction from the original introduction price of US$595 a year ago), and the 160GB version is US$440 (down from $945 at introduction), according to Intel.
In addition, Intel noted its new SSD will also support Microsoft Windows 7 with a firmware update. The upcoming OS is scheduled to release in October.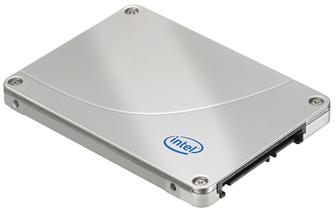 Intel X25-M SSD on 34nm
Photo: Company