VIA announces Eden ULV processor powers Fujitsu thin client
Press release, July 21; Joseph Tsai, DIGITIMES
VIA Technologies has announced its VIA Eden ULV processor is powering the Fujitsu Futro S100, a fanless and silent thin client and virtual workplace solution.
Based on the VIA CoolStream Architecture, the VIA Eden ULV processor is capable of speeds up to 500MHz while maintaining a low power consumption of only one watt at peak and 100mW during idle.
The CPU integrates VIA's StepAhead Technology Suite, which boasts an extensive array of performance-enhancing features to ensure the processor's low power consumption does not come at the expense of performance.
The Fujitsu Futro S100 thin client is designed for server-based computing and virtual workplace solutions. The S100 supports 1GB of DDR2 system memory, and features two USB 2.0 ports, a VGA port, fast Ethernet networking and internal compact flash-based storage.
The VIA Chrome9 HC3 integrated graphics core brings full DirectX 9.0 support while the VIA Chromotion video engine offers hardware acceleration of MPEG-2, MPEG-4, WMV9, VC1 video formats.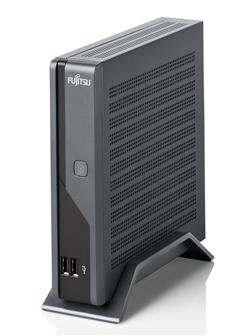 Fujitsu Futro S100 thin client powered by VIA Eden ULV processor
Photo: Company