Micron samples low-voltage DDR3 notebook modules
Press release; Jessie Shen, DIGITIMES
Thursday 18 June 2009
Micron Technology has introduced a new low-power memory solution, and is working to validate the modules with Nvidia's notebook processors. The modules are available in densities up to two-gigabytes (GB) now, with 4GB samples coming this fall, according to the company.
Compared to standard 1.5-volt DDR3, the new Micron DDR3 parts are designed using 1.35-volt one-gigabit (Gb) DDR3 components for significant power savings, said the company. The low-power is achieved without compromise to memory performance, as the modules deliver a bandwidth of up to 1333 megabits per second (Mb/s), the company added.
"Our new DDR3 notebook modules offer approximately a 20% reduction in power usage compared to standard 1.5-volt modules while maintaining DDR3's high performance advantage, enabling a desktop-class computing experience for portable computers," said Robert Feurle, vice president of DRAM marketing at Micron.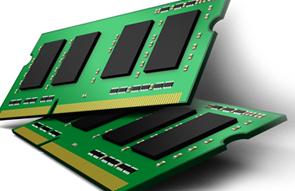 Micron 2GB DDR3 operating at 1.35V
Photo: Company