Computex 2009: Thecus debuts N5500 five-bay NAS device
Press release; Rodney Chan, DIGITIMES
Thecus Technology has debuted its five-bay network-attached storage (NAS) device, the N5500, at Computex Taipei 2009, where the company is showcasing its storage solutions.
The N5500 is equipped with five hot-swappable SATA 3.5-inch hard disk bays for a 10TB storage capacity. The N5500 lets users choose from a wide selection of RAID modes, including RAID 0, 1, 5, 6, and JBOD. It also supports multiple RAID volumes, and features online RAID expansion, online RAID migration, and auto rebuild for maximum flexibility. The N5500 is a storage solution that can be configured as a NAS, a DAS, or an iSCSI device. It comes with an Intel CPU, dual Gigabit Ethernet ports with load balancing, failover, and link aggregation with 802.3ad.
With a dual-DOM design, an extra DOM is installed to ensure continuous operation on N5500, according to the company. The N5500 is flexible with support for multiple file systems, including XFS, EXT3 and ZFS, and users can select different file systems for each RAID volume. RAID volumes on the N5500 can also be encrypted for data protection and security.
The N5500 also offers multimedia support for home users, including an iTunes server, photo web server, and a media server which supports uPnP, making it a central hub for all digital content, the company said. Debuting on the N5500 is Thecus' new AJAX-based web interface, which is more intuitive and easier to use. The N5500 is also fully compatible with Windows, UNIX/Linux, and MAC OS 9/X operating systems, and a scheduled power on/off function means less wasted power and lower total cost of ownership. With IP-cam support, the N5500 can be configured as a surveillance system.
At its Computex booth (Nangang Exhibition Hall, J417A, J419A, J517 and J519), Thecus is also exhibiting its N0204 mini NAS device. Measuring 132×88×63mm, the N0204 could be mistaken for a regular external hard drive. But it is a two-bay NAS device that fits in the palm of a hand. It houses two 2.5-inch SATA hard disks, providing up to 1TB of storage. Users can manage this storage with RAID 0, 1, and JBOD. As its drive bays are hot-swappable and feature auto-rebuild, users can change a hard disk without powering down the unit.
The N0204 comes with many of the features and functionality possessed by its much larger cousins. For starters, the N0204 can function as a complete media hub with its built-in iTunes server, photo web server, and media server. With the built-in media server, users can enjoy videos, pictures, and music with the N0204 by using DLNA compliant media players. Connected to a USB web cam, the N0204 can serve as a home surveillance server, allowing users to preview, capture and schedule image snapshots up to 640×480.
With advanced energy-saving capabilities, the N0204 only uses between 25-30% of the power compared to traditional two-bay NAS devices, according to the company. Users can schedule power on/off for better power management. The N0204 is also fanless. A USB 2.0 port in the front and the one-touch copy allow users to copy the contents of a USB storage device to the N0204 with a single press of a button. Users can also copy data from the N0204 to any USB disk for data exchange. The N0204 supports USB printers, external hard disks, USB web cams, and even works with USB WLAN adaptors to provide wireless capabilities.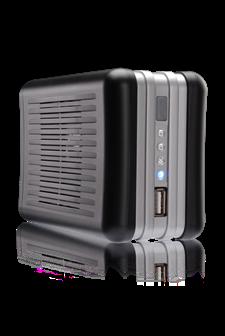 Thecus N0204 mini NAS device
Photo: Company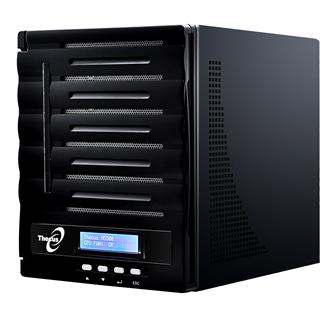 Thecus N5500 five-bay network-attached storage (NAS) device
Photo: Company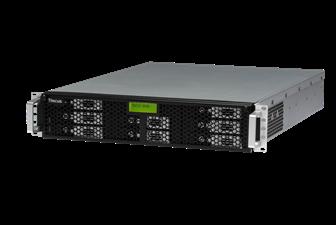 Thecus N8800 provides 24/7 data access with zero down-time
Photo: Company