OCZ introduces the Neutrino netbook for DIY consumers
Press release, March 31; Joseph Tsai, DIGITIMES
OCZ Technology Group has unveiled the Neutrino netbook, the company's latest do-it-yourself (DIY) solution.
Based on the Intel Atom processor, the 10.1-inch Neutrino was developed to push the envelope in the growing area of netbooks as the first DIY offering, said OCZ.
The Neutrino allows users to have complete control of the cost/performance ratio of their netbook and makes the entire procedure simple and easy to follow, according to the company. The Neutrino comes equipped with a CPU, but enables users configure the device to match their own specifications with up to 2GB of memory and hard drive or SSD capacities up to 250GB, the company noted.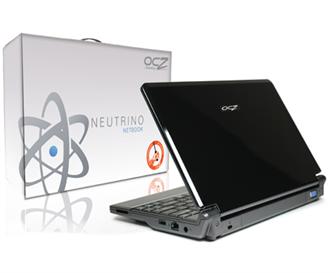 OCZ Neutrino DIY netbook
Photo: Company