Micron adds block abstracted feature to high-speed NAND flash portfolio
Press release; Jessie Shen, DIGITIMES
Thursday 12 March 2009
Micron Technology has announced its high-density portfolio of block abstracted (BA) NAND flash memory for use in personal media players and other applications. Utilizing 34nm process technology, Micron's BA NAND is a single-package solution, combining MLC NAND with a memory controller that eliminates the need for controllers/systems.
Micron's BA NAND enables designers to migrate from raw NAND to a managed solution with minimal changes. The device employs its own embedded controller to remove the burden of NAND management from the host chipset, allowing system manufacturers to keep up with NAND technology innovations and improve their time to market.
The new Micron BA NAND is packaged in the LGA-52 package and is compliant with the ONFI 1.0 specification.
Micron is currently sampling 8GB and 16GB BA NAND, and plans to expand its density offering later in 2009, according to the company.
In October 2007, the Open NAND Flash Interface (ONFI) Working Group, the organization dedicated to simplifying integration of NAND flash memory, introduced the block abstracted addendum specification that helps simplify the design of host controllers.
BA NAND flash features

Item

Description

Density

8GB, 16GB, 32GB

Configuration

x8

Interface

Async/Sync
ONFI 1.0/2.0

Temperature ranges

–25°C to +85°C
–40°C to +85°C

Supply voltage

Vcc 2.7–3.6V

Package

52-pad LGA
(14mm x 18mm)
Source: Micron, compiled by Digitimes, March 2009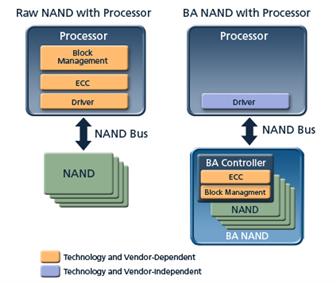 Block diagram: Micron BA NAND flash
Source: Company, March 2009