Lenovo announces new members in its Idea consumer lineup
Press release, January 6; Joseph Tsai, DIGITIMES
Tuesday 6 January 2009
Lenovo has announced the latest additions to its Idea brand of personal computers for consumers - the IdeaPad Y650, Y550 and Y450 notebooks and IdeaCentre A6002, an all-in-one desktop PC.
The IdeaCentre A600 all-in-one PC features a 21.5-inch frameless screen and provides a design that measures only one inch at its slimmest point, the company claimed.
The all-in-one PC offers a 16:9 aspect ratio screen and support for 1920x1080 full HD resolution. The integrated speaker system includes a bass sub-woofer and Dolby Home Theatre audio certification, while the optional Blu-ray player completes the home cinema experience.
At the core of the all-in-one PC is a desktop computer with choices of Intel Core 2 Duo processors, optional ATI Radeon graphics card technology with DirectX 10 support, up to 4GB of DDR3 memory for multitasking and up to 1TB of hard drive space for storage.
The expanded Y series adds new screen sizes to the IdeaPad notebook lineup: the 16-inch Y650, the 15.6-inch Y550, and the 14-inch Y450. The new Y series notebooks are configurable with up to 500GB of hard drive storage space and up to 4GB of DDR3 memory.
To provide HD entertainment and multimedia experience, the Y series notebooks are equipped with 16:9 format widescreen panels, optional Nvidia GFX graphics for gaming, HD video playback and Dolby Home Theater surround sound.
The IdeaPad Y650, Y550, Y450 notebooks will be available beginning in March. The prices start at US$1,199 for the IdeaPad Y650, US$829 for the IdeaPad Y550 and Y450. The IdeaCentre A600 will be available beginning in April with price starting at US$999.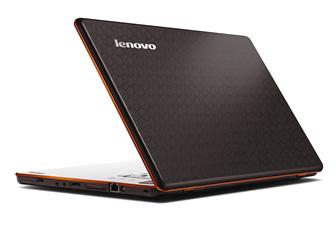 Lenovo IdeaPad Y650 notebook
Photo: Company