Taiwan market: Philips to launch first Blu-ray player
Jimmy Hsu, Taipei; Adam Hwang, DIGITIMES
Royal Philips Electronics on October 29 unveiled the BDP7200 Blu-ray Disc (BD) player for launch in the Taiwan market in November 2008 at a recommended retail price of NT$26,900 (US$808). This will be the first Philips BD player for sale in Taiwan, according to Philips Taiwan.
The BDP7200 features an HDMI 1.3 interface supports 1080p output, Philips Taiwan noted.
The BDP7200 will be sold with a free HDMI cable and 10 free coupons to rent BD movie discs, Philips Taiwan indicated. The inital launch volume of the BDP7200 in Taiwan will be limited to 200 units, Philips Taiwan pointed out.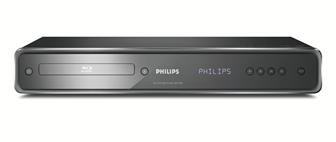 Philips BD player BDP7200
Photo: Company