Taiwan market: Samsung launches Q1 digital media player, aims at 15% market share in 4Q08
Jimmy Hsu, Taipei; Adam Hwang, DIGITIMES
Samsung Electronics recently unveiled the Q1 digital media player for immediate launch in the Taiwan market at a recommended retail price of NT$3,990 (US$122) for a 4GB model and NT$4,990 for an 8GB model.
Samsung also lowered prices for existing U and S series players by 5-10%, in an attempt to increase its market share from slightly over 10% in the first half of 2008 to 15% this quarter, according to Samsung Electronics Taiwan.
Q1 features a 2.4-inch QVGA TFT-LCD screen, Samsung-developed DNSe 3.0 3D surround sound quality and continuous playback of music for 20-30 hours or video for four hours, Samsung Taiwan pointed out. A 16GB Q1 will be launched around the end of 2008, at a yet to be determined retail price, Samsung Taiwan indicated.
The 2008 total sales volume of digital music players in the Taiwan market is projected to be 1.05 million units, dropping by 2% from 2007, Samsung Taiwan noted.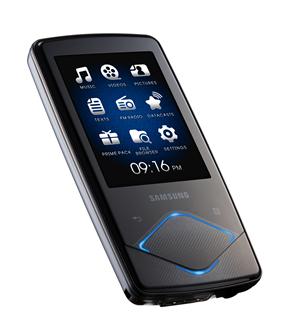 Samsung Q1
Photo: Company