Samsung enters the US notebook and netbook market
Press release, October 16; Joseph Tsai, DIGITIMES
Samsung Electronics America has announced its entrance in the US notebook market with a product lineup including notebooks in four categories – premium thin and light, all purpose, business, and desktop replacement, and the netbook segment.
The X360 and X460 are 13.3- and 14.1-inch premium ultra thin-and-light notebooks with a price starting at US$1,599. The X360 weighs 2.8 pounds can achieve up to 10 hours of continuous usage, claimed Samsung. Both support Samsung's latest 300nits SuperBright LED backlit LCD display.
Samsung's NC10 is a netbook with a 10.2-inch wide SuperBright LCD, enhanced capacity battery and 160GB hard drive, carrying a price of US$499. The Q310 is a highly portable all-purpose notebook with price of US$1,149 and US$1,299, featuring a 13.3-inch wide LCD. The R610, with a price of US$1,049, is a desktop replacement that features a 16-inch wide LCD.
Completing Samsung's entry to the notebook market are the enterprise-focused P460 and P560, semi-ruggedized notebooks with a price range of US$1,149 to US$1,399. All of Samsung's notebooks will initially be available throughout the traditional IT reseller channel.
Each notebook (with the exception of the NC10 netbook) will feature the latest Intel Centrino 2 processor technology with Intel Core 2 Duo processors and 3GB of system memory.
Samsung notebook specifications

Model

X series

P series

Q series

R series

NC10

CPU

Intel Core 2 Duo processor with Centrino 2 technology

Intel Atom N270 processor

Memory

3GB, can support up to 4GB

1GB DDR2 800MHz memory

Panel size

13.3-inch (X360)

14.1-inch (X460)

LED backlit

14.1-inch (P460)

15.4-inch (P560)

13.3-inch (Q310)

16-inch 16:9 aspect ratio with HD resolution (R610)

10.2-inch

GPU

Intel GMX4500 (X360)

Nvidia GeForce 9200M GS (X460)

Intel GMX4500 (P460)

Nvidia GeForce 9600M GS (P560)

Intel GMX4500 (Q310)

Nvidia GeForce 9200M GS (R610)

Intel 945 GSE
Source: Company, compiled by Digitimes, October 2008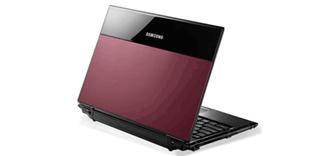 Samsung X360 notebook
Photo: Company