Murata uses robot to highlight sensor products
Press release, October 6; Michael McManus, DIGITIMES
During the recently concluded CEATEC Japan 2008, Japan-based Murata Manufacturing used a unicycle-riding robot to guide visitors to its booth and highlight the company's products. The robot, named Murata Girl, is a follow-up of the company's bicycle-riding robot, Murata Boy.
These robots incorporate several Murata products, including capacitors, sensors and communication modules. The company highlighted that Murata Girl can maintain balance and move around on a unicycle while keeping a certain distance from an object using a ultrasonic sensor. The robot can also transmits moving images via a live camera.
The company explained Murata Girl features gyro sensors that detect Murata Girl's tilt angle. Signals from the gyro sensors are then used to help control the unicycle wheel in the forward and backward directions and a fly wheel inside her torso monitors side tilt in order to maintain balance. Ultrasonic sensors detect obstacles judge how far away an obstacle is by measuring the time it takes to transmit ultrasound and receive the reflected signal from the obstacle, while Murata Girl sends and receives commands via a Bluetooth module.
Murata is a major player in the global passive component industry. The company was the largest supplier of DC-DC converters modules worldwide in 2007, according to IMS Research report of the worldwide power supply market, holding a market share of 12.5%. Delta Electronics was the second largest suppliers followed by Emerson with the total market for DC-DC converters estimated at US$2.9 billion in 2007.
However, the DC-DC converter module market continues to be a tough environment, with high price erosion, new entrants emerging from Asia, and increasing competition from discrete solutions, according to David Dewan, power supply market analyst and report author. Dewan indicated that the standard board-mount DC-DC converter module business is becoming increasingly commoditized and the likely implementation of the IPC 9592 guidelines by tier-1 suppliers will drive standardization and could compound price pressures.
Players in the industry are always looking to new markets to drive future growth, with Murata developing its MEMS product lines. The company pointed out that since the robotics market is expected to experience strong growth, expansion in demand for such electronic components is also expected.
The company had MEMS sales of US$69 million in 2007, ranking number 22 worldwide among MEMS manufacturers, according to Yole Developpement.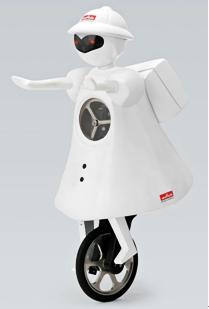 Murata Girl
Photo: Company