Transcend unveils new JetFlash V90P USB flash drive
Press release, June 11; Eric Mah, DIGITIMES
Wednesday 11 June 2008
Transcend Information recently introduced its 4GB V90 Pizazz ultra-compact JetFlash USB flash drive.
The drive features a stylish metal body and golden faceplate with intricately embossed checkered pattern and comes with an attractive metal carrying chain.
Measuring just 33.8×13.1×4.8mm, the JetFlash V90P is designed for business travelers and people who need an elegant way to carry data effortlessly while on the move, according to Transcend.
The Transcend 4GB V90 has an untaxed list price of US$26.70.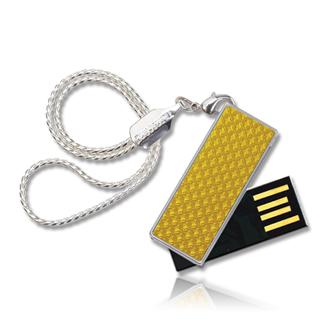 Transcend JetFlash V90P USB flash drive
Photo: Company