Computex 2008: Handlink showing coin-operated Wi-Fi access machine
Press release, June 5; Eric Mah, DIGITIMES
Wi-Fi access point maker Handlink is displaying its Wi-Fi kiosk products at this year's Computex.
Handlink's Wi-Fi kiosk allows hotels, coffee shops, restaurants and convention centers to easily provide fee-based instant Wi-Fi access service to customers.
The company's Wi-Fi kiosk includes an Internet gateway that supports a standard 802.11b/g/n interface, coin collection, thermal paper printing and operation buttons. A user friendly GUI is provided for the venue owner to perform the initial setup and define the Wi-Fi Internet service billing option.
To purchase a Wi-Fi Internet access account, end users with wireless-enabled notebooks or PDAs just need to insert coins and press a print button on the Wi-Fi kiosk. After a purchase is made, a ticket is printed detailing their Internet access account details. End users can log on to their recently purchased Internet access account via a standard browser. After the pre-paid time has elapsed, Internet access is automatically disconnected and the account deleted.
Handlink is demonstrating the coin-operated Wi-Fi access kiosk at booth D520, TWTC Hall 1.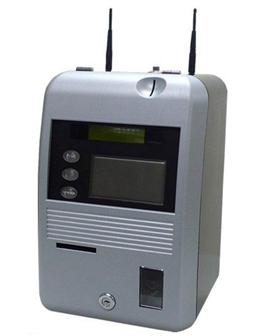 Handlink's coin-operated Wi-Fi access kiosk
Photo: Company