Computex 2008: Lanready featuring Wi-Fi access devices
Press release, June 5; Eric Mah, DIGITIMES
Wi-Fi access device maker Lanready is featuring its A300 industrial Wi-Fi access point at Computex 2008.
The A300 industrial wireless access point can function in multiple modes such as bridge, repeater, WDS and access point. The A300 supports the wireless 802.11b/g standard and its transmission power is compliant with EU regulations limiting output to 100mW and operates in the 2.4 GHz radio frequency.
The A300 supports wireless distribution system (WDS), allowing it to create links to other WDS-capable access points for added robustness where needed. The A300 also supports eight BSSIDs, allowing for eight different wireless networks to be supported by just one device.
For added reliability the PoE ports also support fail-over switching. The A300 has two antennas that can easily be replaced with more powerful antennas for added gain. The A300 is encased within an anti-dust IP50 compliant housing.
Lanready can be found at the TWTC in Hall 1, booths C120 and C122.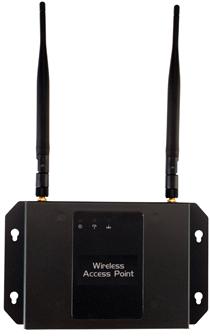 Lanready A300 industrial Wi-Fi access point
Photo: Company