Computex 2008: FIC showcases latest netbooks
Press release, June 4; Joseph Tsai, DIGITIMES
Wednesday 4 June 2008
First International Computer (FIC) unveiled its latest 8.9-inch netbooks, the CE2A1 and CW0A1.
The CE2A1 features a 1.2GHz VIA C7-M ULV processor with VIA VX800 chipset and can support Windows Vista Basic, Windows XP Home Edition and Linux operating systems.
Sharing the same industrial design, the CW0A1 uses a 1600MHz Intel Atom N270 processor with Intel 945GSE chipset and can run either Windows XP Home Edition or Linux.
With only a negligible increase in weight, and a few more millimeters in thickness, the CE2A1 and CW0A1 now sport larger displays with an 8.9-inch WVGA panel, while also featuring a revised, centrally-located touchpad, a 1.3-megapixel webcam, 802.11b/g wireless LAN, 4-cell Lithium-Ion battery (6-cell optional) and a 1.8-inch hard disk drive with up to 160GB of internal storage.
FIC's latest netbook specifications

Model

CE2A1

CW0A1

CPU

1.2GHz VIA C7-M ULV processor

1600MHz Intel Atom processor N270

Memory

DDR2 533/667 MHz SO-DIMM slot (up to 2GB)

DDR2 533 SO-DIMM slot (up to 2GB)

Display

8.9-inch WVGA glare LCD (1024×600)

8.9-inch WVGA glare LCD (1024×600)

OS

Windows Vista Basic, Windows XP Home Edition or Linux operating system support

Windows XP Home Edition or Linux operating system support
Source: Company, compiled by Digitimes, June 2008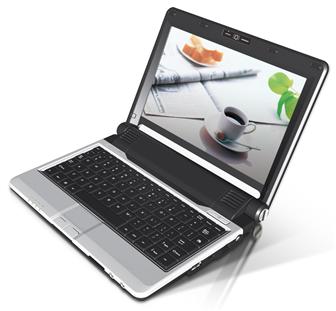 FIC 8.9-inch CE2A1/CW0A1 netbook
Photo: Company