Taiwan market: Ergotech to launch digital media player in cooperation with online music platform
Jimmy Hsu, Taipei; Adam Hwang, DIGITIMES
Ergotech Technology, a Taiwan-based maker of portable multimedia players for own-brand sale, will launch the DeeJay ET-UC26 2GB digital media player in cooperation with online music platform StarMusic in the Taiwan market at a recommended retail price of NT$2,399 (US$78) later in May 2008, according to the company.
ET-UC26 will come with popular Chinese-language songs and music videos provided by StarMusic pre-loaded on the device, Ergotech pointed out. All songs provided by StarMusic are used under license from the publishers or music creators, Ergotech said.
In the Taiwan digital media player market, international vendors such as Apple, Sony and Samsung dominate the high-end segment while white-box vendors have the largest share of the low-end segment due to much lower prices. The remaining area between the two segments is open for competition among second-tier international and local brands including Ergotech, Ergotech indicated.
As white-box vendors are not willing to pay royalty fees for pre-loaded songs, Ergotech has adopted this strategy to differentiate itself in the market, the company noted.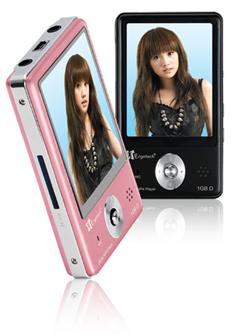 ET-UC26 digital media player available in two colors
Photo: Company