Asustek launches compact server based on Intel 45nm technology
Press release, March 24; Joseph Tsai, DIGITIMES
Monday 24 March 2008
Asustek Computer recently launched its latest 1U server, the RS100-E5/PI2, a quad-core/dual-core Intel Xeon 3000 series platform, which supports Intel 45nm processors with a FSB up to 1333MHz.
As a uni-processor server, the RS100-E5/PI2 provides 4-dimm slots to support up to 8GB DDR2 800/667 ECC memory, while offering RAID 0, 1 functions for cost-effective data protection.
Equipped with dual PCI Express (PCIe) Gigabit Ethernet functions, the RS100-E5/PI2 is capable of higher bandwidth aggregation and reliable networking based on failover and load balance functions.
An optional Asustek ASMB3-SOL Card (out-of-band monitor/troubleshooting) provides security and extends remote offline serviceability functions with IPMI2.0 Serial Over LAN standards – significantly saving MIS efforts for maintenance and minimizing system downtime.
The server is an ideal platform for home users, SMB, SOHO, IDC, telecom and client systems that require quiet working environments.
Asustek RS100-E5/PI2 server specifications

Item

Detail

Processor support

Quad-core Intel Xeon 3300 series,

dual-core Intel Xeon 3100 series,

quad-core Intel Xeon 3200 series (G0 stepping)

and dual-core Intel Xeon 3000 series processors

FSB

FSB 1333/1066/800MHz

Core logic

Intel 3200 MCH
Intel ICH7R

Memory support

DDR2 800/667 memory support up to 8GB

Storage

Two internal SATA2 HDD
One slim-type optical device (Optional)

NIC

Two Broadcom BCM5721 PCIe GbE LAN

Onboard VGA

XGI Z9s VGA controller / 32MB

Expansion slot

One PCIe x16 slot (x8 Link) (default)

Power supply

220W 80+ PFC single power supply

Dimensions (mm)

381×430×43.4mm (1U)
Source: Company, compiled by Digitimes, March 2008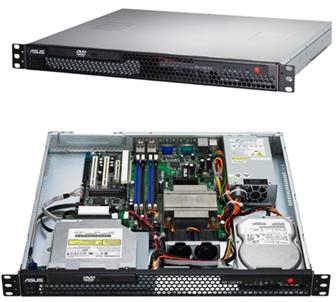 Asustek RS100-E5/PI2 server
Photo: Company