Apple introduces new MacBook and MacBook Pro models
Press release, February 27; Eric Mah, DIGITIMES
Apple has announced an update to its MacBook and MacBook Pro notebook lines with the inclusion of the latest Intel Core 2 Duo (Penryn) processors, larger hard drives and 2GB of memory as standard in most models.
The new MacBook Pro features an Intel Core 2 Duo up to 2.6GHz with 6MB of shared L2 cache; up to 4GB of 667MHz DDR2 SDRAM memory and up to a 300GB hard drive, plus Nvidia GeForce 8600M GT graphics with up to 512MB of video memory. The revised lineup also includes Apple's Multi-Touch trackpad, which was first introduced in MacBook Air.
Featuring a 13-inch glossy widescreen display, and with prices still starting at US$1,099, the new MacBook lineup comes in three models and includes faster processors and larger hard drives across the line; white 2.1GHz and 2.4GHz models with 120GB or 160GB 5400-rpm hard drives and a black 2.4GHz model with a 250GB 5400-rpm hard drive, previously only available as an option. The 2.4GHz MacBook models ship with 2GB of memory, expandable up to 4GB across the line.
Every MacBook and MacBook Pro includes a built-in iSight video camera; Apple's MagSafe Power Adapter; 802.11n wireless networking; built-in Gigabit Ethernet; Bluetooth; analog and digital audio inputs and outputs; USB 2.0; FireWire and a built-in SuperDrive.
The new MacBook and MacBook Pro models are now shipping and will be available through the Apple Store, Apple's retail stores and Apple Authorized Resellers.
Apple MacBook and MacBook Pro notebooks: Suggested pricing

Type

Processor speed

Display size

Suggested retail price (US$)

MacBook (white)

2.1GHz

13-inch

1,099.

MacBook (white)

2.4GHz

13-inch

1,299

MacBook (black)

2.4GHz

13-inch

1,499

MacBook Pro

2.4GHz

15-inch

1,999

MacBook Pro

2.5GHz

15-inch

2,499

MacBook Pro

2.5GHz

17-inch

2,799
Source: Company, compiled by Digitimes, February 2008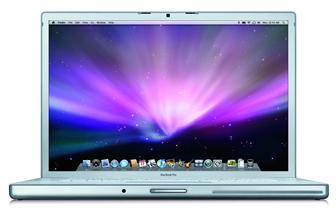 Apple MacBook Pro
Photo: Company