PowerColor and GeCube launch Radeon HD 3850 and 3870 graphics cards
Press release, November 16; Joseph Tsai, DIGITIMES
Following AMD's recent announcement of its Radeon HD 3850 and 3870 graphics chips, Tul (PowerColor) and GeCube have launched their latest AMD-based graphics cards.
PowerColor announced standard and overclocked versions of its HD 3850 and HD 3870 cards, both targeting the enthusiast market. The overclocked versions included a unique cooling solution dubbed PCS (professional cooling system).
GeCube announced several HD 3800 series-based graphics cards including some with its new X-Turbo III cooling fan. The company also launched overclocked versions of the cards.
PowerColor: Radeon HD 3800 series graphics cards specification

Model Number

HD 3850

HD 3850 PCS

HD 3850 Xtreme PCS

HD 3870

HD 3870 PCS

Core Speed

668MHz

720MHz

720MHz

775MHz

800MHz

Memory Speed

828MHz

900MHz

900MHz

1126MHz

1200MHz

Memory Size

256MB

512MB

512MB

512MB

512MB

Memory Controller

256-bit

Memory Type

GDDR3

GDDR3

GDDR3

GDDR4

GDDR4

CrossFireX

YES

PCIe

2.0

HDMI Interface

w/ Dongle

w/ Dongle

On-board

w/ Dongle

w/ Dongle
Source: Company, compiled by Digitimes, November 2007
GeCube: Radeon HD 3800 series graphics cards specification

Model Number

GC-HD3850PG3-D3 (BBA)

GC-XHD3850PG3-E3 (O.C Version)

GC-HD3870XTG4-E3 (BBA)

GC-XHD3870XTG4-E3 (O.C Version)

Chips

RV670PRO (55nm)

RV670PRO (55nm)

RV670XT (55nm)

RV670XT (55nm)

Core/Memory Frequency

668MHz/ 828MHz

700MHz/ 875MHz

O.C to 720MHz/950MHz

775 MHz/1126 MHz

800MHz/1200MHz

O.C to 857MHz/1250MHz

Memory Bus

256-bit

Memory Type

GDDR3, 256MB

GDDR3, 512MB

GDDR4, 512MB

GDDR4, 512MB

DVI

Dual DVI (2 Dual Link, HDCP)

D-Sub

Yes (By Dongle)

Built-in HDMI

Yes ( thru DVI to HDMI dongle)

VC-1

Yes

HDR+AA

Yes

HDTV

HDTV by S to YPbPr cable (default included)

Cooling

Single Slot Fansink

Dual Slot Fansink (X-Turbo III)

Dual Slot Fansink

Dual Slot Fansink (X-Turbo III)
Source: Company, compiled by Digitimes, November 2007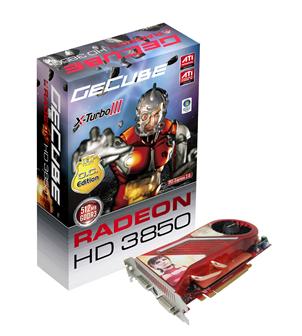 GeCube GC-HD3850PG3-D3 graphics card based on AMD's Radeon HD 3850 chip
Photo: Company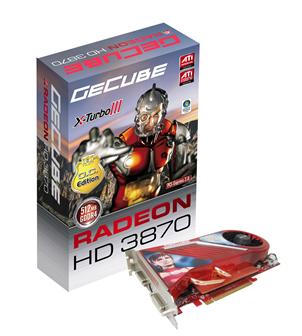 GeCube GC-HD3870XTG4-E3 graphics card based on AMD's Radeon HD 3870 chip
Photo: Company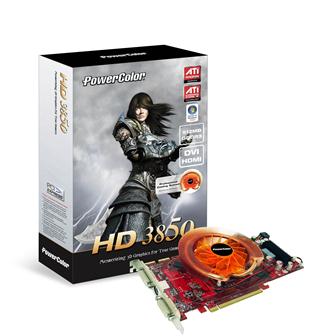 PowerColor HD 3850 graphics card
Photo: Company
PowerColor HD 3870 graphics card
Photo: Company