Taiwan market: Samsung to launch three Bluetooth digital music players
Jimmy Hsu, Taipei; Adam Hwang, DIGITIMES
Samsung Electronics on November 14 unveiled three Bluetooth-enabled digital music players, the P2, S5 and T10, and a localized version of its online audio/video platform, Samsung Play. The digital music players will launch in the Taiwan market soon, according to Samsung Electronics Taiwan, and are the first Bluetooth-enabled models available in Taiwan, it emphasized.
Of the Samsung digital music players sold in the Taiwan market, 60-70% are entry-level models, such as the U3, with, currently, only 30-40% in the medium and high-end range, Samsung Taiwan pointed out. With the launch of the three Bluetooth models, the ratio is expected to reach 50:50, Samsung Taiwan indicated.
Samsung sold about 70,000 digital music players in Taiwan in 2006, taking the second largest market share proportion at 10%. Samsung became the largest foreign brand in August 2007, said Samsung Taiwan general manager Chul-young Lee. In line with the trend of increasing storage capacity, Samsung plans to offer 16GB models in the first quarter of 2008, Lee noted. Samsung aims to grow its Taiwan market share to 15% in 2008, Lee indicated.
Samsung's three new digital music player specifications

Item

P2

S5

T-10

Screen size and resolution

3-inch 480×272-pixel TFT-LCD

1.8-inch 220×176-pixel TFT-LCD

2-inch 320×240-pixel TFT-LCD

Built-in flash memory capacity

4GB, 8GB

2GB

2GB, 4GB

Battery service time: Music or video playback in hours

35 or 5

24 or 4.5

30 or 4

Dimension (W × H × D, mm)

52 × 100 × 9.9

46.5 × 96 × 14.95

41.5 × 96 × 7.9

Weight (gram)

85

85

43

Recommended retail price (NT$)

7,290 (US$225) for 4GB, 8,990 for 8GB

5,500

4,290 for 2GB, 5,290 for 4GB
Source: Samsung Taiwan, compiled by Digitimes, November 2007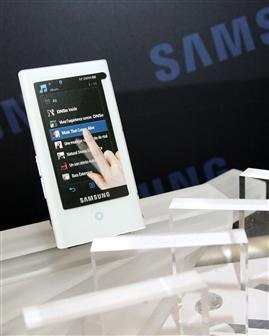 Samsung's new P2 Bluetooth digital music player
Photo: Company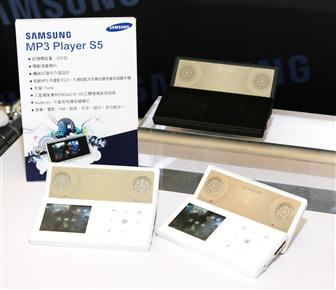 Samsung's S5 Bluetooth digital music player
Photo: Company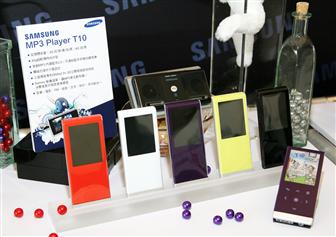 Samsung's T10 Bluetooth digital music player is available in five colors
Photo: Company