Gigabyte unleashes X38 series motherboards
Press release, October 12; Joseph Tsai, DIGITIMES
Gigabyte United has announced its flagship X38 series motherboards including the GA-X38T-DQ6 and GA-X38-DQ6 based on Intel X38 chipset. Featuring dual x16 PCI Express 2.0 support, 1600MHz FSB and Gigabyte's Ultra Durable 2 technology.
The Gigabyte X38 series support Intel Core 2 multi-core processors and the upcoming Intel 45nm CPUs. The motherboards also support FSB speeds up to 1600MHz and offer flexible memory support options including up to 1600MHz native DDR3 memory support with the GA-X38T-DQ6 and up to 1066MHz DDR2 support with the GA-X38-DQ6.
The motherboards support AMD CrossFire technology with dual PCI Express 2.0 x16 interfaces, delivering double the PCI Express bandwidth, 5Gbit/s.
In line with Gigabyte's strategy of designing "higher quality" designs, the new boards use all solid lower ESR capacitors from Japan-based manufacturers which it claims offer a longer lifespan. Additionally, Lower RDS (on) MOSFETs are featured which offer faster switching and lower heat generation, at lower power consumption, according to the company. Finally, Gigabyte has introduced higher quality Ferrite Chokes which it claims hold energy longer, providing reduced core energy loss and lower EMI interference for extended system reliability.
Gigabyte X38-based motherboards specifications

Model

GA-X38-DQ6

GA-X38T-DQ6

Chipset

Northbridge: Intel X38

Southbridge: Intel ICH9R

CPU

Supports Intel Core 2 multi-core and upcoming 45nm processors

FSB

Support up to 1600MHz

Memory

Dual-channel DDR2 1066MHz memory

Dual-channel DDR3 1600MHz memory with Intel XMP

VGA

Supports CrossFire with dual PCI Express 2.0 x16 ports
Source: Company, compiled by Digitimes, October 2007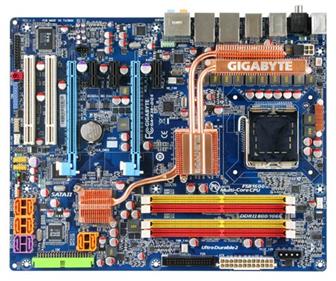 Gigabyte GA-X38-DQ6 motherboard
Photo: Company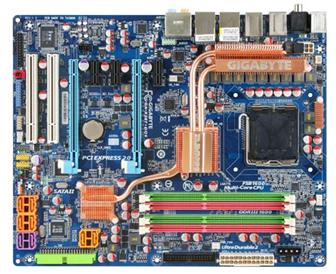 Gigabyte GA-X38T-DQ6 motherboard
Photo: Company