Taiwan market: Sony showcases VAIO TP1 and LM16 media center PCs, adds new models to notebook lineup
Yen-ting Chen, Taipei; Steve Shen, DIGITIMES
Sony on October 12 unveiled its media center PC, the VAIO TP1, in Taipei with availability in the Taiwan market set for December this year, according to sources at Sony Taiwan.
The VAIO TP1, which is powered by an Intel Core 2 Duo processor and comes equipped with a built-in 500GB hard disc and full HD support, is to carry a suggested retail price below NT$40,000 (US$1,227), the sources indicated.
Prior to the availability of TP1, Sony will start marketing its 19-inch VAIO LM16 living room PC in Taiwan on October 27 with a price tag of NT$74,800, the sources said.
Sony also added five new models to its notebook lineup aiming to boost its share in the Taiwan market. The new models include the TZ26, TZ27 and TZ28 for the high-end segment, the FZ25 for the home entertainment market and the CR25 for the mainstream segment.
Prices for the TZ26, TZ27 and TZ28 are tagged at NT$59,800, NT$69,800 and NT$89,800, respectively, said company sources.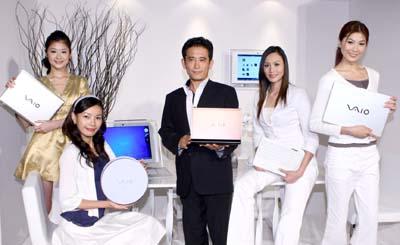 An array of Sony's VAIO media center PC and notebook products
Photo: John Hsu, Digitimes, October 2007