Posdata unveils WiMAX gaming device
Press release, September 28; Joseph Tsai, DIGITIMES
Korea-based Posdata has unveiled a new gaming platform, the G100, which will enable gaming enthusiasts to download games and access the Internet using high-speed mobile WiMAX connections.
The G100 will operate in its initial release at 2.3GHz and 2.5GHz bands. The device has an embedded 4-inch, touch-screen TFT-LCD and a sliding-style game pad. It also supports various networks, such as WiMAX, Wi-Fi, and Bluetooth, allowing the user to select the most appropriate network to make a connection, highlighted Posdata. The official release of the product is expected by the end of 2007.
The company also released a USB-type terminal, the U100, that allows users to plug it into a notebook and access WiMAX networks. The device is set to be released in October.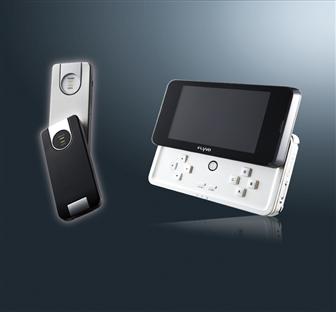 Posdata G100 gaming device (right) and U100 WiMAX terminal (left)
Photo: Business Wire