Gigabyte and ECS introduce Nvidia 7 series IGP motherboards
Press release, September 27; Joseph Tsai, DIGITIMES
Gigabyte United and Elitegroup Computer Systems (ECS) both recently announced motherboards based on the Nvidia 7 series integrated graphics processors (IGPs).
Gigabyte United unveiled its GA-73UM-S2H and GA-73PVM-S2H, which support the latest Intel processors and support for up to 1333 MHz FSB and DDR2 800MHz memory.
The GA-73UM-S2H and GA-73PVM-S2H, powered by the Nvidia GeForce 7150 and 7100 graphic processing units (GPUs), respectively, provide HDMI connectivity with HDCP (High Definition Content Protection) support, allowing for playback of Blu-ray/HD DVD and other protected media content. The boards also feature DVI and VGA output as well as rear IO port eSATA connectivity for quick and easy data transmission.
ECS introduced its GF7100PVT-M, leveraging the Nvidia GeForce 7100 IGP chipset. The GF7100PVT-M motherboard supports Intel's upcoming 45nm processors as well as Core 2 Quad and Core 2 Duo processors.
Targeting the mainstream segment, the GF7100PVT-M motherboard has a DVI port and supports HDCP. The motherboard also has support for an additional PCI Express x16 slot, DDR2 800 memory up to 8GB, 8-channel HD audio, Gigabit LAN controller, and the SATA 2 ports supporting RAID 0/ 1/ 0+1/ 5.
Nvidia 7 series motherboards specification

Item

Details

Model

ECS GF7100PVT-M

Gigabyte GA-73UM-S2H

GA-73PVM-S2H

CPU

Intel Core 2 Quad to Celeron processors with support of 1333/1066/800/533 MHz FSB

Chipset

GeForce 7100/630i (MCP73PV)

GeForce 7150 (73UM)

GeForce 7100 (73PVM)

VGA

Nvidia GeForce 7 series GPU with shared memory up to 256MB

Memory

Single-channel DDR2 800/667/533 memory up to 4GB
Source: Companies, compiled by Digitimes, September 2007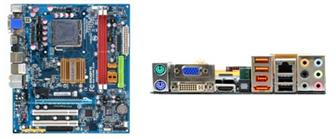 Gigabyte Nvidia 7 series motherboard
Photo: Company