Asustek introduces new LightScribe DVD burner
Press release, August 30; Joseph Tsai, DIGITIMES
Asustek Computer introduced its DRW-2014 L1T internal DVD rewriter with LightScribe direct disc labeling technology. The DVD RW drive provides a 20x DVD±R write speed, 8x DVD±R (dual layer) and 14x DVD-RAM reading capabilities. In addition, users can expect to enjoy five times faster data transfer rates than the current DMA33 standard with the SATA interface.
With dual-format support, the DRW-2014 L1T can create DVDs that can be played and read by most DVD-ROM drives and DVD players. The DVD ROM drive also allows 6x DVD-Rewrite, 8x DVD+Rewrite, 16x DVD-ROM, 48x CD-Write, 32x CD-Rewrite, 14x DVD-RAM and 48x CD-ROM.
The DRW-2014 L1T also features LightScribe, QuieTrack, airflow field modification (AFFM), FlextraLink, FlextraSpeed and auto vibration reducing system (AVRS) technologies.
Asustek DRW-2014 L1T internal DVD rewriter specifications

Item

Details

Read/write support

20x DVD-Write
6x DVD-RW
18x DVD+Write
8x DVD+RW
8x DVD±R (dual layer)
16x DVD-ROM
14x DVD-RAM
48x CD-Write
32x CD-RW
48x CD-ROM

Available mounting

Vertical and horizontal

Writing format support

DAO, TAO, SAO, packet write

Interface

SATA
Source: Company, compiled by Digitimes, August 2007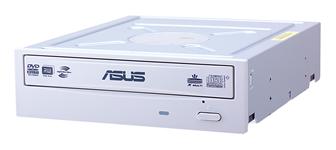 Asustek DRW-2014 L1T internal DVD rewriter
Photo: Company