Walton Chaintech announces 2GB SO-DIMMs
Press release, July 23; Ricky Morris, DIGITIMES
Walton Chaintech has come to the rescue of notebook owners looking to expand their system memory to make the most of Windows Vista or 64-bit software. The company has just announced the availability of is Apogee SO-DIMM memory now in 2GB capacities.
The speed of the newly released memory is given as 667/800MHz DDR2 which should be enough to match up with even the latest Intel Santa Rosa platforms.
Pricing and availability were not supplied.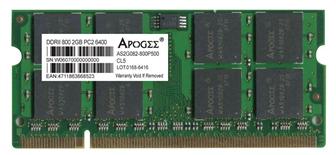 Walton Chaintech launches 2GB SO-DIMMs
Photo: Company