Taiwan market: Samsung launches U3 MP3 players
Press release, July 10; Adam Hwang, DIGITIMES
Samsung Electronics on July 9 launched its U3-series MP3 players in Taiwan, targeting teenagers and college students, according to Samsung Electronics Taiwan.
Available in five colors, the U3 MP3 player features a USB port, 32/64/128Kbps voice recording and FM radio, Samsung Taiwan indicated.
Samsung has become the second largest brand for MP3 players in Taiwan with a market share of 17%, second only to Apple's iPod series, Samsung Taiwan pointed out. To maintain its market position, Samsung plans to launch three to four new MP3 player models by the end of this year, Samsung Taiwan noted.
Samsung U3 MP3 player specifications

Item

Details

Storage

1GB

2GB

4GB

Screen resolution

160×28 pixels

Dimension (W×H×D, mm)

25.4×80.0×11.0

Weight (including battery)

22.8g

Recommended retail price in NT$

2,290 (US$70)

3,290

4,290
Source: Samsung Taiwan, compiled by Digitimes, July 2007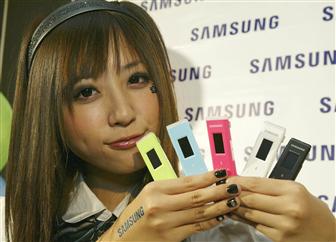 Samsung U3 MP3 player available in five colors
Photo: Samsung Electronics Taiwan