Nvidia announces new Tesla GPU products
Press release, June 21; Joseph Tsai, DIGITIMES
Nvidia has announced a new class of processors based on a new graphics processing unit (GPU). Under the Nvidia Tesla brand, Nvidia will offer a family products that will place the power previously available only from supercomputers in the hands of every scientist and engineer. Today's workstations will be transformed into personal supercomputers, claimed the company.
The Nvidia Tesla product line includes new GPU processors, deskside supercomputers and servers:
Nvidia Tesla GPU computing processor, a dedicated computing board that scales to multiple Tesla GPUs inside a single PC or workstation. The Tesla GPU features 128 parallel processors, and delivers up to 518 gigaflops of parallel computation. The GPU computing processor can be used in existing systems partnered with high-performance CPUs.
Nvidia Tesla deskside supercomputer, a scalable computing system that includes two Nvidia Tesla GPUs and attaches to a PC or workstation through a PCI Express connection. With multiple deskside systems, a standard PC or workstation is transformed into a personal supercomputer, delivering up to eight teraflops of compute power to the desktop.
Nvidia Tesla GPU computing server, a 1U server housing up to eight Nvidia Tesla GPUs, containing more than 1000 parallel processors that add teraflops of parallel processing to clusters.
Computing on Nvidia Tesla is now available to any software developer through the world's only C-language development environment for the GPU. Nvidia Cuda is a complete software development solution that includes a C-compiler for the GPU, debugger/profiler, dedicated driver, and standard libraries. Cuda simplifies parallel computing on the GPU by using the standard C language to create programs that process large quantities of data in parallel. Programs written with Cuda and run on Tesla are able to process thousands of threads simultaneously, providing high computational throughput to enable the GPU to quickly solve complex, computational problems. The Nvidia Cuda development environment is currently supported on the Linux and Microsoft Windows XP operating systems, noted the company.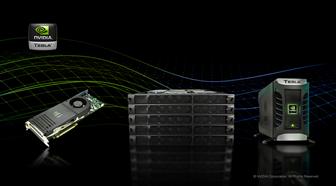 Nvidia Tesla products
Photo: Company