Netgear launches Powerline Network Extender
Press release, June 12; Eric Mah, DIGITIMES
Netgear has announced the availability of its Space-Saving Powerline Network Extender (XEPS103).
Compatible with other Netgear HomePlug 1.0 Powerline devices, the Space-Saving Powerline Extender enables consumers to extend secure home network connections from a wired or wireless router to any electrical outlet in the home. Its 2-in-1 design replaces the router's existing power adapter and supplies both power to the router or gateway and an 85Mbps network extension via Powerline – reducing AC electrical outlet clutter without impacting Ethernet performance, the company highlighted. A kit version of the Network Extender (XEPSB103), bundled with Netgear's 85Mbps Wall-Plugged Ethernet Adapter (XE103), will be available in early summer 2007.
The Space-Saving Powerline Network Extender comes ready for simple plug-and-play installation, with a space-saving 2-in-1 design that reduces clutter by requiring only one plug to supply both power and a network extension. The device provides power to the power input of the Netgear router or gateway. It also provides an Ethernet connection to Ethernet port of the router or gateway, thus extending a secure 14 or 85Mbps network connection to any electrical outlet.
Backed by a one-year warranty and 24/7 technical support, the Netgear Space-Saving Network Extender (XEPS103) is available via leading retailers, direct marketers, e-commerce sites and value-added resellers, at a suggested retail price of US$79.99.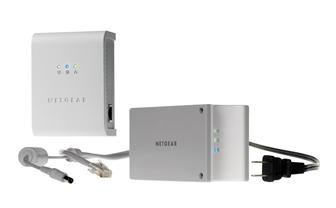 The Netgear Space-Saving Powerline Network Extender (XEPS103)
Photo: Company