Computex 2007: Motherboard and graphics card show guide
Ricky Morris, DIGITIMES, Taipei
With just a few exceptions, most of the motherboard and graphics card vendors can be found in Hall 2 making it fairly convenient to get information on the latest developments without covering a large distance.
In just a short time in Hall 2 it becomes fairly apparent that the main event at Computex Taipei 2007 is the Intel 3 series (Bearlake) chipset with every board marker showing versions in seemingly endless variations. It can get somewhat repetitive seeing the same chipset names over and over but thankfully most of the makers have come up with interesting features that help differentiate their products.
If you look carefully among the swarms of Bearlake products you might spot one or two boards based on the AMD 7 series northbridge which will support the new AM2+ CPUs and bring support for PCI Express (PCIe) 2.0 to AMD platforms. Two versions have been seen so far, the 780 and the higher-end 790 which supports two x16 PCIe slots typically, but Gigabyte has instead opted for four x8 slots to create a quad-Crossfire supporting board. According to company representatives at the various booths, 780 and 790 boards are expected to start shipping in late June or the beginning of July.
Another thing you might notice when checking out some of the live demo systems is a PCIe x1 add-in card based on Intel Turbo Memory (Robson). The cards were seen in several booths and according to the company representatives they will begin shipping in the third quarter. However, the vendors are still uncertain whether the cards will be available only as a bundle option with the motherboards or if they will be available at retail.
In terms of graphics card products the news is fairly light. Few vendors are showing new products based on Nvidia GPUs, and while at the show is probably the first time most people will see AMD 2600 and 2400 series cards in physical form, news about these products has been widely circulated over the past month or so, meaning that most people are likely to be familiar with the features. There are a couple of notable exceptions including a huge engineering model dual-GPU card by Micro-Star International (MSI) and Gigabyte Technology's passively cooled lineup.
One of the issues that will be presented at least in the short term following the launch of Bearlake is the limited availability of DDR3 memory. To overcome this Asustek Computer has leveraged its in-house memory module production facilities in several ways. One method the company is planning to adopt is to bundle a pair of own-brand modules with certain motherboards. This is a fairly simple solution, while another option the company has come up with is to do away with DIMM slots and simply embed the memory on the motherboard.
It is becoming common to see heat-pipe cooling solutions used on the north and southbridge and even other critical parts of the motherboard, and Asus is talking things even further with its new Cool Mempipe. As the name suggest this solution extends the heat-pipe arrangement so that it cools the DIMM modules installed in a motherboard. Another variation on the heat-pipes at which can be seen at the booth is a version specially designed for systems that use water cooling. If you feel like you need a break from looking at motherboards for a moment we suggest you take at looks at Asus' new Xonar sound card too.
It might be a little harder to spot something interesting over at the MSI booth but that is not to say there is not anything. If you take a look round the back of some of the display models, you will see that MSI has tweaked the design of the USB ports in order to provide more spacing between slots.
While there are no products on show with this feature, you should also ask the MSI booth representatives about the company's plans to bring Serial Attached SCSI (SAS) to the desktop. As a storage interface typically found on higher-end servers, SAS offers performance benefits but at an extra cost, and yet MSI believes that there is enough market for it on the desktop.
Then there is the monster-sized dual-Radeon 2600 card. Similar products to this have been released with older generation GPUs, but this card from MSI is one of only a few we saw based on current technology. Of course, the card on show is only an engineering sample and when the product finally reaches the market you can expect the card to have been reduced from its current dimensions of around 150mm × 300mm.
Foxconn Electronics (Hon Hai Precision Industry) is taking its push for the own-brand motherboard market to the next level by targeting the enthusiast market with its latest products. The company believes that if it is able to appeal to gamers then this will help increase brand recognition for its entire product range. Foxconn's gaming boards will carry the new sub-brand Mars (as in the god of war according to the booth rep.) and will feature a thermal controlled fan in the heat-pipe cooling system, LED diagnostics, and will come in a few Bearlake-based variations, including a three PCIe slot version, and a DDR2 and DDR3 combo model.
Other than the quad-Crossfire system on show, most of Gigabytes new motherboards do not add any new features, but that is not necessarily a bad thing as Gigabyte has a reputation for high-quality products that fulfill expectations. On the graphics card side what is instantly apparent is that most of Gigabyte's products use a passive cooling solution. According to a Gigabyte representative, around 90% of all the cards Gigabyte ships use passive cooling, and it is only at the high-end where both AMD and Nvidia restrict card vendors to only using their reference designs that Gigabyte does not use a passive solution.
Quick guide to motherboard and graphics card booths

Company name

Booth location (Hall 2 unless noted)

What's hot

Asustek Computer

F185

DDR3 memory solutions for Bearlake motherboards

Micro-star International

E149

Dual-2600 GPU card

TUL (PowerColor)

F290

Complete Radeon 2000 series lineup

Shuttle

E067

New XPC barebones

Foxconn Electronics (Hon Hai Precision Industry)

E133

New gaming motherboards

Gigabyte Technology

E137

Quad-Crossfire

USI (Abit)

E087E

Live overclocking demonstration

Elitegroup Computer Systems (ECS)

Hall 4, T3F2

DTX form factor systems

VIA

F243

NanoBook

Sparkle

E085E

GeForce graphics cards with integrated LCD temperature display

Tyan

E083E

Personal supercomputer

Leadtek Research

Hall 1, A726

Quadro Plex visual computing system (VCS)

Intel

Hall 4, T401

Bearlake chipsets

AMD

Hall 4, TF1I

DTX, Radeon 2000 series
Source: Computex and companies, compiled by Digitimes, June 2007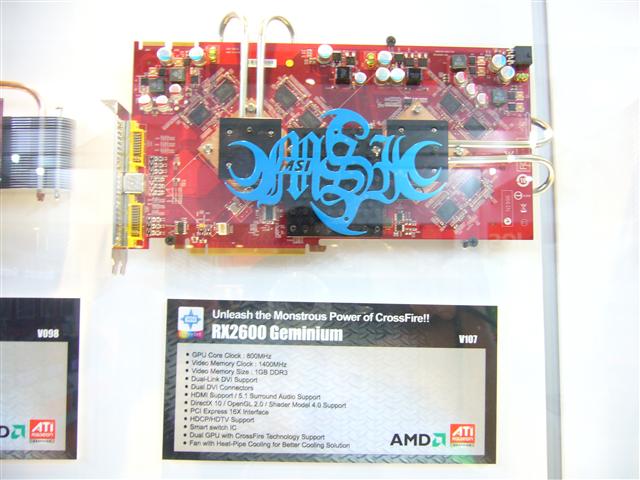 An engineering sample of MSI's dual-Radeon 2600 GPU card
Photo: Ricky Morris, Digitimes, June 2007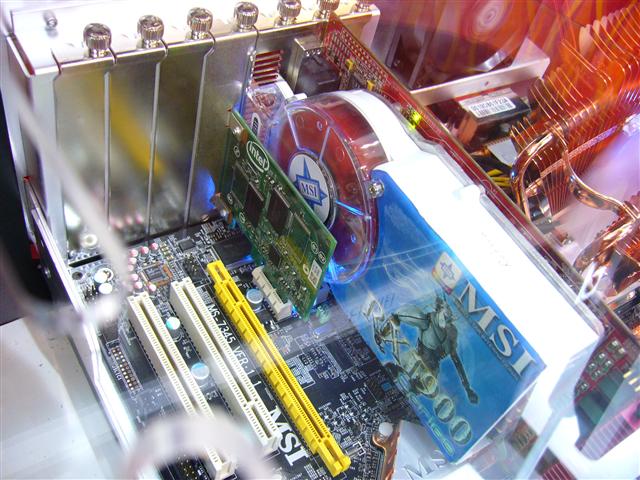 Intel Turbo Memory for desktops coming in 3Q
Photo: Ricky Morris, Digitimes, June 2007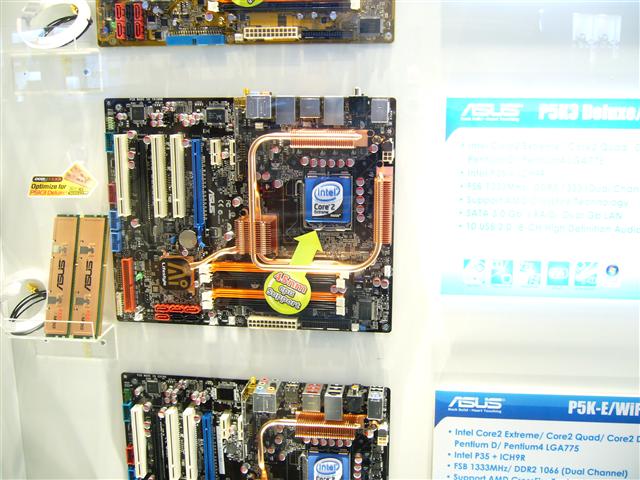 Asustek plans to bundle own-brand DDR3 memory with some of its new Bearlake motherboards
Photo: Ricky Morris, Digitimes, June 2007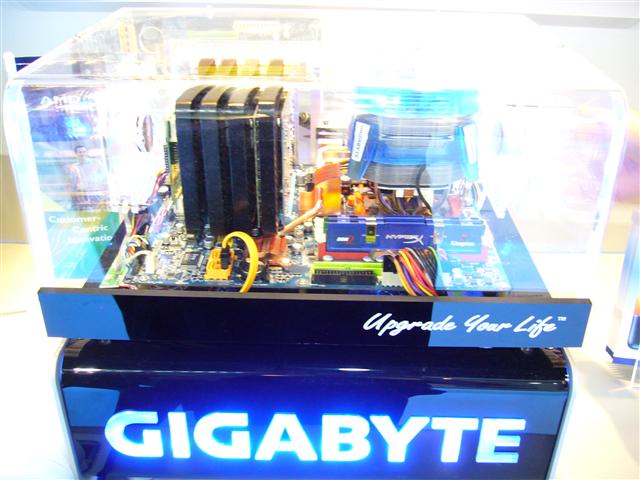 Gigabyte demos a new AMD 790 chipset motherboard with quad-Crossfire support
Photo: Ricky Morris, Digitimes, June 2007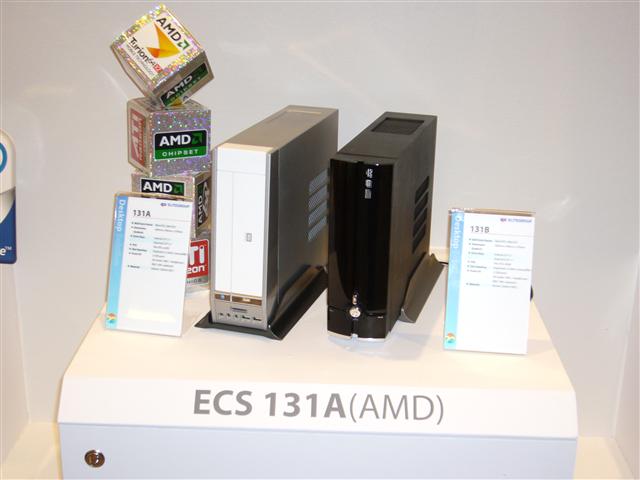 ECS shows off DTX-based small form factor systems
Photo: Ricky Morris, Digitimes, June 2007