Computex 2007: Toshiba showcases slim HD DVD rewritable drive to mobile PCs
Press release, June 4; Rodney Chan, DIGITIMES
Toshiba Storage Device Division (SDD) has announced its first slim HD DVD-RW drive for mobile PCs, further extending high-definition (HD) recording capabilities to the IT arena. The new drive can read, write and rewrite to HD DVD-RW discs, as well as read and write to HD DVD-R discs and standard DVD and CD discs.
Toshiba's SD-L912A enables mobile PCs to replace larger desktop systems in the home with this additional (HD) functionality. The drive allows the backup of large-capacity PC hard disk drives to reusable HD DVD-RW discs and provides capabilities to store HD digital content. HD DVD-RW functionality also opens the door to a wide range of applications involving storage and rewriting of large volumes of data, noted Toshiba.
Scheduled for sample shipments in July, the SD-L912A supports high-speed read and write for standard DVD and CD discs. The new drive is compliant with the EU RoHS directive on environmentally hazardous substances, which came into effect in July 2006.
Toshiba will feature the SD-L912A at Computex 2007 in Taipei, Taiwan, June 5-9, in the Toshiba Digital Media Network Taiwan Corporation booth (#B1234).
Toshiba slim HD DVD-RW

Specifications

Model name

SD-L912A

Read/Write speed

Write:

HD DVD-R SL (single layer): 2x; HD DVD-R DL (dual layer): 1x; HD DVD-RW SL: 1x; HD DVD-RW DL: 1x; DVD-RAM: Max. 3x; DVD-R SL: Max. 4x; DVD-R DL: Max. 2x; DVD-RW: Max. 4x; DVD+R SL: Max. 4x; DVD+R DL: Max. 2.4x; DVD+RW: Max. 4x; CD-R: Max. 16x; CD-RW: 4x; High Speed CD-RW: Max. 10x; Ultra Speed CD-RW: 10x

Read:

HD DVD-R SL: 2.4x; HD DVD-R DL: 1x; HD DVD-RW SL:1x; HD DVD-RW DL: 1x; HD DVD-ROM: 2.4x; DVD: Max. 8x; CD: Max. 24x

Interface

ATAPI

Buffer capacity

8MB

MTBF

60,000 hours

Power source

+5V (allowance +/-5%)

Operating temperature

5-50 degrees C (excluding media)

External dimensions (W x H x D)

128.0mm × 12.7mm × 126.0mm

Weight

170g (typical)
Source: Company, compiled by Digitimes, June 2007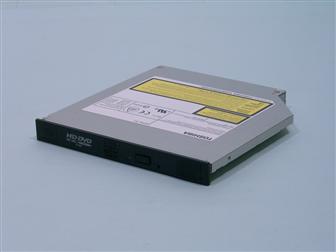 Toshiba SD-L912A
Photo: Company