Kingston releases ultra-portable USB microSD reader/card bundles
Press release, May 31; Rodney Chan, DIGITIMES [Thursday 31 May 2007]
Kingston Technology has announced two USB microSD reader-plus-card bundles designed to enhance the moving of data between multiple mobile phones, PCs and digital devices. Available immediately, the new USB readers ship with either a 1GB or 2GB capacity microSD card.
Designed with a USB connector and memory expansion slot that accepts the microSD card format, the mobile device-ready reader bundle eliminates the need to carry additional USB cables and reduces wait times typically associated with Bluetooth transfers between cell phones and PCs.
The new USB microSD reader/card bundle features a red reader for the 2GB card combo and black for the 1GB version. When in use, the USB microSD reader appears as a separate drive letter (for example E:\) and data transfer is as easy as drag and drop. The USB microSD reader/card is ultra portable and with the included key loop, can be hung from a mobile phone as a convenient digital data moving solution.
Kingston USB microSD reader plus card specifications

Part number

Product description

MSRP (US only)

FCR-MRR+SDC/2GB

USB microSD Reader (Red) + 2GB microSD Card

US$37.00

FCR-MRB+SDC/1GB

USB microSD reader (black) + 1GB microSD card

US$19.00
Source: Company
Kingston USB microSD reader
Features and specifications:
Dimensions: 1.29" x 0.60" x 0.30" (32.89mm x 15.3mm x 7.66mm)
Speed rating: Up to 13MB/sec read; 3.5MB/sec write
Compliant standards: USB 2.0, SD 2.00 (reader); SD Association specification standard (card)
Weight: 0.010 lbs. / 4.6g
Operating temperature: 32° to 140°F (0° to 60°C)
Storage temperature: -40° to 185°F (-40° to 85°C)
System requirements: USB (1.1 and above); Windows Vista (ReadyBoost not supported), XP (SP1 and above), Windows 2000 (SP3 and above); Mac OS (10.x and above)
Guarantee: Two-year warranty on USB microSD reader; lifetime on microSD memory card.
Source: Company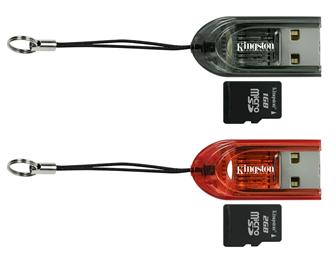 The Kingston 1GB microSD card combo (black reader) or a 2GB card version (red reader).
Photo: Business Wire