Taiwan market: Sony unveils two series of digital music players
Jimmy Hsu, Taipei; Adam Hwang, DIGITIMES
Sony on May 8 debuted the NW-A800 and NW-E010 series of Walkman digital music players for immediate launch in the Taiwan market. The players deliver excellent audio quality for market segmentation, according to Taiwan marketing president Hiroyuki Oda under Sony Taiwan.
In addition to high audio quality, NW-A800 series players feature continuous playback of either 30-hour music or 8-hour video, Oda indicated.
The two series were launched in the Japan market in March 2007, Oda noted.
Sony NW-A800 and NW-E010: Specifications

Item

NW-A800 series models

NW-E010 series models

A806

A808

E013F/VM

E015F/VM

E016F

Screen

2-inch 260,000-pixel LTPS (low-temperature poly-silicon) panel, with resolution of 320×240

N/A

Storage capacity

4GB

8GB

1GB

2GB

4GB

Dimension (W×H×D, mm)

43.8×88.0×9.1

22.4×82.9×13.6

Weight (g)

53, including built-in Li-ion battery

29, including built-in Li-ion battery

Recommended retail price in NT$

8,990 (US$271)

10,990

2,990

3,990

4,990
Source: Company, compiled by Digitimes, May 2007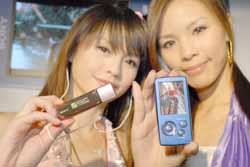 Sony's NW-A800 (right) and NW-E010 digital music players
Photo: Jimmy Hsu, Digitimes