Corsair introduces super tough flash drives
Press release, May 2; Eric Mah, DIGITIMES
Corsair recently unveiled its Flash Survivor super rugged line of USB 2.0 flash drives.
Flash Survivor drives are water-resistant, encased in a CNC- (computer numerical control-) milled aluminum casing and shockproof to safely store information and files in the most demanding environments, according to the company. The drives come in two versions: the Flash Survivor GT 8GB and Flash Survivor 4GB.
Sealed with an EPDM (ethylene propylene diene monomer) waterproof seal, Flash Survivor drives are designed to provide 200 meters of water resistant durability. Additional protection from shock and vibration is provided through a rubber molded collar shielding.
Each Flash Survivor drive delivers sustained read/write performance up to 34MB/sec and 28MB/sec, respectively, according to Corsair. Engineered with highly screened NAND flash and an advanced memory controller, the new Flash Survivor drives features enhanced dual channel and interleave memory technologies, resulting in fast file transfers, noted Corsair.
The Flash Survivor family of USB drives is pre-loaded with a security application that allows users to create a hidden, password-protected partition on the drive. The password is encrypted with 256-bit AES encryption, one of the most secure encryption algorithms currently available, stated Corsair.
The Corsair Flash Survivor GT 8GB and Flash Survivor 4GB are available immediately at a manufacturer's suggested retail price (MSRP) of US$129.99 and US$59.99, respectively.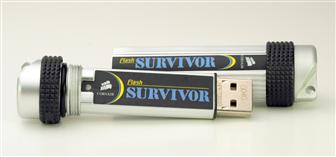 The Corsair Flash Survivor 4GB USB 2.0 flash drive
Photo: Company