Taiwan market: Mio launches two new in-car GPS devices
Ruby Huang, Taipei; Steve Shen, DIGITIMES
Thursday 26 April 2007
Mio Technology, the own-brand product division of Mitac International, on April 25 launched two in-car GPS devices, the C720t and C520, in Taiwan, with both models featuring a 4.3-inch LED display and built-in 3D maps.
The C720t carries a suggested retail price of NT$15,800 (US$476), while the C520 is priced at NT$11,800, according to sources in the channel.
Additionally, Mitac also expects its shipments of GPS devices worldwide to double in the second quarter from over one million shipped in the first quarter, buoyed partly by the launch of the 4.3-inch models, according to Mio president Samuel Wang.
Overall, Mitac's shipments of GPS products, including Mio-branded models, are expected to total eight million units in 2007, accounting for a 32% share of the global GPS market, Wang noted.
Mio has also established cooperation agreements with the top-four automakers in China to develop the in-car GPS market, and the company has already received orders for 66,000 GPS devices from the makers, said Wang, noting that China shipments will account for 6% to its own-brand shipments in 2007.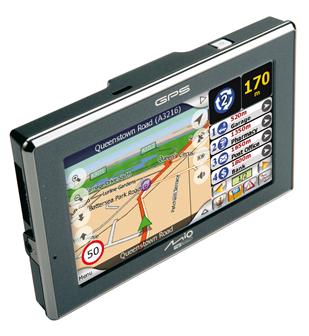 Mio C520 in-car GPS device
Photo: Company