Fujitsu offers SSDs in LifeBook notebooks
Press release, March 20; Rodney Chan, DIGITIMES
Fujitsu Computer Systems has introduced pen-enabled notebooks with solid state drives (SSDs). The LifeBook P1610 and LifeBook B6210 ultra-portables will offer an option for an SSD, an NAND flash-based replacement for traditional hard disk drives (HDDs).
Fujitsu also introduced a rugged case for added durability and reliability. The rugged-enhanced notebooks, designed for optimal portability and data protection, are suitable for medium-sized and large organizations within vertical markets, including healthcare, aviation, and field service, which require a light and compact, but highly durable mobile computer, said Fujitsu.
The 2.2-pound LifeBook P1610 convertible touch screen notebook and 3.2-pound LifeBook B6210 touch screen notebook are now offered with two flash-based SSD configurations, 16GB or 32GB. SSDs offer lower power consumption, added ruggedness, high reliability, and improved performance.
As there are no moving parts to fail or heads to crash, SSDs can provide more durability and data protection than traditional HDDs. SSDs are noise free, generate virtually no heat and weigh half as much as traditional notebook hard drives, according to Fujitsu.
The LifeBook P1610 notebook and its predecessor, the LifeBook P1510 notebook, can be further protected in tablet mode with an optional 3/4-inch thick flexible Santoprene case. The case, which provides access to all ports, offers additional protection against accidental drops, bumps and the rigors of a day on the road.
The LifeBook P1610 convertible notebook offers full PC functionality and an 8.9-inch indoor/outdoor touch screen. It is designed for on-the-go mobile professionals who require the flexibility of a tablet for note-taking or navigating through forms-based applications, along with the traditional keyboard input of a notebook computer, noted Fujitsu.
The LifeBook B6210 notebook is equipped with a bright 12.1-inch XGA display offering the flexibility of touch screen input and the productivity of a notebook computer.
The SSD for the LifeBook P1610 and B6210 notebooks will be offered with 16GB and 32GB storage capacities and available to corporate customers and agencies on a project-basis.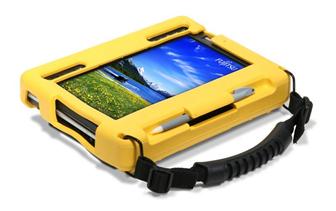 Fujitsu LifeBook P1610 notebook with rugged case
Photo: Company