CeBIT 2007: Walton Chaintech introduces high-end Apogee GT memory; planning ten new Nvidia GeForce 8-series graphics cards
Ricky Morris, DigiTimes.com, Taipei
At a little under a year, Walton Chaintech is a relative newcomer in the memory market, but the company's pedigree and unique wafer-in module-out manufacturing capability means that its recently announced Apogee GT memory might just give high-end memory giants such as Corsair, OCZ and Kingston a run for their money.
Aimed at gamers and advanced users looking to maximize the performance of their systems, Apogee GT series memory comes with extruded aluminum and high-performance heat sinks and is sold as matched pair kits to increase reliability when running in dual-channel mode. Currently 1GB and 2GB kits are available with 4GB kits scheduled for the second or third quarter, according to sources at Chaintech. Speeds available are 800+ (the plus indicates that Chaintech guarantees overclockability above 800MHz) at 4-4-4-12 CL4 and 1066+ 5-5-5-15 CL5, with prices around US$450 for a 2GB 1066+ kit.
So far so ordinary, but what gives Chaintech the potential to become a player in the high-end memory market is the fact that the company is part of the Passive System Alliance (PSA) group, which means that unlike most brand-name memory companies, Chaintech and its sister companies are involved in the entire RAM manufacturing process, from the original wafer, to burn-in and testing, to module assembly and packaging. This means that Chaintech has the opportunity to cherry pick the top samples from each production batch while avoiding premium prices. It also allows Chaintech to guarantee its products with confidence – its memory comes with a lifetime guarantee, and, by the company's figures, has a defect rate of 0.1% compared to the industry average of 0.5%.
In other news, Chaintech has also added a third product to its Nvidia GeForce 8 GPU-based graphics lineup. The 8800GTX with 768MB DDR3, 8800GTS with 640MB DDR3, and new 8800GTS with 320MB GDDR3 are all reference design cards but Chaintech also revealed that the company is working on ten more GeForce 8-series cards. Some of these are based on as yet unreleased GPUs (which Chaintech declined to discuss for non-disclosure agreement reasons but it can be speculated that these are the upcoming G84 and G86 parts) while some will be non-reference 8800 based cards which could carry a different cooling solution or higher performing memory produced by Chaintech and its sister companies.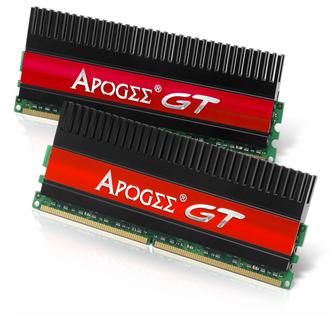 Apogee GT series memory comes with high-performance heat sinks and is sold as matched pair kits
Photo: Company
For complete DigiTimes coverage of CeBIT 2007 go here.