Anydata releases HSDPA router
Press release, March 13; Eric Mah, DIGITIMES
Anydata on March 12 announced the release of its AWR-600WK Wi-Fi router with broadband WCDMA/HSDPA network access.
The AWR-600WK router offers a secure Wi-Fi local network with data exchange rates of 54Mbps using the WLAN 802.11 b/g standard. The AWR-600WK router takes advantage of mobility and broadband 3G speeds of the 90+ HSDPA networks commercially available by GSM carriers worldwide, said Anydata.
The AWR-600WK features 3G HSDPA Release 5 with data rates of up to 7.2Mbps download, backward compatibility with WCDMA, four RJ-45 ports and a built-in DHCP server that can support up to 253 users. The router also has a Web-based configuration wizard that allows administration, firmware upgrades and diagnostics, and advanced Wi-Fi and Ethernet security features, according to the company.
For wireless security, the AWR-600WK features 64bit or 128bit WEP encryption as well as WPA-PSK authentication. LAN security features include a firewall, IP filtering, DMZ, NAT with DHCP, Denial of Service, and MAC clone. It also supports VPN pass through virtual server.
The AWR-600WK has dimensions of 155×28×120mm. For maximum performance, it features two antennas – one for the local Wi-Fi network and one for the WCDMA network.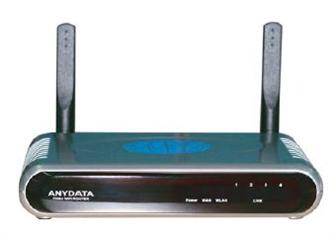 The Anydata AWR-600WK Wi-Fi router
Photo: Company