Windows Mobile 6-powered handsets on show at 3GSM World
Daniel Shen, Barcelona; Steve Shen, DIGITIMES
While launching its new Windows Mobile 6 software platform at the ongoing 3GSM World Congress 2007 in Barcelona (Spain), Microsoft also displayed more than 10 new handsets powered by the new operating system (OS), including models from Taiwan-based High Tech Computer (HTC), Asustek Computer, Gigabyte Communications, Inventec, and Chi Mei Communication Systems (CMCS).
The displays include the SPV E650 from Orange, which is manufactured by HTC and as Microsoft claimed, will be the first Windows Mobile 6-powered handset to be launched for the European market scheduled in the second quarter of 2007.
For the Japanese market, HTC will cooperate with Toshiba to build Windows Mobile 6-based smartphones for Softbank Mobile, which is expected to launch the new handsets in June, according to Microsoft sources.
In the US, new versions of Dash handsets from T-Mobile will also run on the Windows Mobile 6 OS, the sources indicated. Currently, T-Mobile outsources its production of Dash handsets to HTC.
Other Windows Mobile 6-powered models include the BenQ-Siemens dual-brand E72 from BenQ, the P526 and the Aries from Asustek, and the t600 from Gigabyte Communications, as well as an ODM model built by Inventec for Dubai-based i-mate, the JAQ4.
The BenQ E72 will be built using an OMAP 1030 260MHz processor from Texas Instruments (TI) and support UMA (unlicensed mobile access)/VoIP and push email technology, according to sources at the company.
The JAQ4, which will be the first GPS-enabled PDA phone from i-mate, will be built using a TI 200MHz OMAP 850 processor and features built-in Bluetooth and Wi-Fi functions.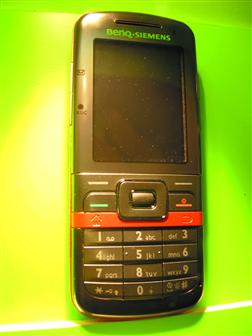 BenQ's first UMA handset E72
Photo: Daniel Shen, DigiTimes, February 2007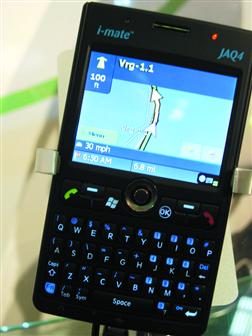 The JAQ4 built by Inventec for i-mate
Photo: Daniel Shen, DigiTimes, February 2007