Sony Ericsson adds slim W880 to its music phone line
Press release, February 7; Ricky Morris, DIGITIMES
At just 9.4mm, the W880 is the slimmest Sony Ericsson phone yet and combines the full Walkman phone experience with a device that fits easily into a pocket, says Sony Ericsson. The 1GB Memory Stick Micro (M2) provided in-box gives room to store up to 900 full-length tracks, while the selection of music applications (such as Walkman Player 2.0 & Disc2Phone) make it easy to transfer and search play lists for your favorite music tracks, adds the company. All of this, plus a 2.0-megapixel camera, is packed into a UMTS phone that's as slim as a standard CD case.
The W880 represents a milestone in the Walkman phone portfolio, claims Sony Ericsson. Although without doubt one of the slimmest music phones, the true beauty of its design is seen in the brushed stainless steel finish and the stand-out color variants; either Steel Silver or Flame Black, Sony Ericsson says.
However, the W880 is about more than just good looks. The Disc2Phone music management software allows you to transfer your tracks easily and with no fuss from a PC straight to the phone. With Bluetooth Audio Streaming, all of that music can be enjoyed wirelessly on a stereo Bluetooth headset, or by streaming music directly to a home or car stereo. Importantly for a music phone, all of this functionality has been introduced without having to compromise on battery life. The W880 delivers up to 18 hours music listening time and features a special flight mode for switching off your phone in mobile-prohibited environments.
The W880 Walkman phone is a UMTS 2100 GPRS 900/1800/1900 music phone and will be available in selected markets from the first quarter of 2007.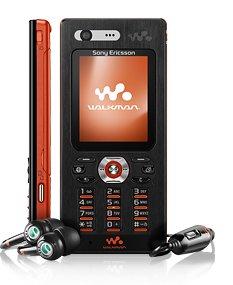 Sony Ericsson W880 music phone
Photo: Company