Asus announces LCD monitors Vista ready
Press release, February 6; Ricky Morris, DIGITIMES
Asustek has announced that its 22-inch MW221U and 20-inch MW201U LCD monitors are certified for Windows Vista, and compliment features of the new operating system, such as Windows Sidebar, and (apparently) Internet Explorer 7's tabbed browsing, says Asus.
Both displays support a native resolution of 1680×1050 and have a 2ms response time thanks to Asus' Trace Free technology. A fast response time help reduce ghosting when high-motion images are displayed on-screen, making the LCDs suitable for gaming and watching video, according to Asus. Additionally, both LCDs include Asus' Splendid Video Intelligence technology to improve image quality and color reproduction to suit a variety of viewing modes.
In terms of connectivity, both displays include a HDCP-enabled DVI-D port to allow the viewing of protected content such as Blu-ray and HD DVD movies, as well as a VGA D-Sub connector. The two LCDs also incorporate a pair of 1W speakers, and include a cable management system in the base.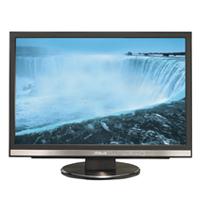 Asus's 22-inch MW221U LCD certified for Windows Vista
Photo: Company