Fujitsu claims first 300GB 2.5-inch SATA HDD in the world
Press release, December 12; Rodney Chan, DIGITIMES
Fujitsu today announced the development of the world's first 2.5-inch hard disk drive (HDD) that offers storage capacity of 300 gigabytes (GB) with a Serial ATA (SATA) interface.
The new HDD, the MHX2300BT, which will be available in late February 2007, will be for use primarily in multifunctional mobile PCs and digital TVs, the company said.
Fujitsu began selling hard disk drives with perpendicular magnetic recording in October of this year. A leader in introducing high-capacity 2.5-inch HDD, the company already launched products with 160GB in September 2005 and 200GB in May 2006.
The company said the MHX2300BT marks the commercial introduction of second-generation of perpendicular magnetic recording technology. The new HDD will be offered in 300 GB and 250 GB versions.
The new HDDs are RoHS-compliant and have read/write power consumption requirements of just 1.6W, among the lowest in the world, the company said. They are also quiet, emitting just 2.1bels of noise at idle, the company added.
Fujitsu aims to sell 1.5 million units during fiscal 2007 (ending March 2008) for the MHX2300BT and MHX2250BT combined.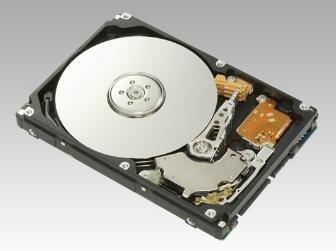 Fujitsu's MHX2300BT 300GB 2.5-inch SATA HDD
Photo: Company