Taiwan market: Asustek launches four gaming notebooks in expanding market
Ruby Huang, Taipei; Steve Shen, DIGITIMES
Asustek Computer on November 20 launched four gaming notebooks in the Taiwan market amid expectations of rising demand for high-performance notebooks in line with the upcoming Microsoft Windows Vista OS (operating system), according to company and market sources.
All of the four models – the G1, G2, A8Js and F3Jc – are powered by Intel Core 2 Duo processors, with the G1 and G2 available between NT$58,900-88,900 (US$1,790-2,702) and the A8Js and F3Jc available between NT$42,800-52,800, said sources at Asustek.
With shipments of gaming notebooks currently accounting for 30% of its total notebook shipments, the company stated that the advantage it enjoys in the manufacturing of motherboards and graphics cards allows Asustek to bring the new models to the gaming market in a fast manner, the sources stated.
Dell's recently introduced a 12-1-inch XPS-series gaming notebook, powered by Intel's Core 2 Duo T5600 CPU, which carries a suggested retail price of NT$37,900 and has received positive response from the Taiwan market, according to market sources. Another model from Dell, powered by an Intel 2.0GHz Core 2 Duo T7200 CPU, is available for NT$43,000, indicates Dell's aggressive marketing to expand its share in the local gaming notebook segment, the sources said.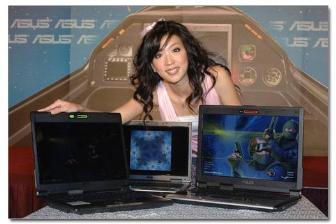 Asustek's G1 and G2 gaming notebooks
Photo: Company