Sony debuts high-definition recorder for medical use
Press release, November 17; Carrie Yu, DIGITIMES
Sony Electronics on November 17 introduced an optical high-definition (HD) recorder to capture and store HD video of medical procedures in 1,440×1,080i resolution. The device can record and store up to two hours on a 23GB PFD-23 XDCAM disc, which is sealed to help prevent scratches and preserve data with minimal degradation for more than 50 years, based on Sony's accelerated testing.
The PDW-70MD XDCAM HD recorder integrates a 3.5-inch color LCD screen that allows users to view thumbnail-sized stills of footage accessible through RAM. This enables users to quickly identify points of interest without manually winding through hours of footage.
"Sony's HD products are helping to improve all levels of medical visualization," said George Santanello, Sony Electronics' director of marketing for medical products. "With the advent of surgical HD camera systems, the recorder will prove to be a tool offering the bandwidth and storage capacity required for recording HD content, Santanello said.
The recorder has a compact design and can be positioned horizontally or vertically to improve integration within existing digital operating rooms.
The PDW-70MD recorder is available through Sony resellers at a suggested list price of US$14,995.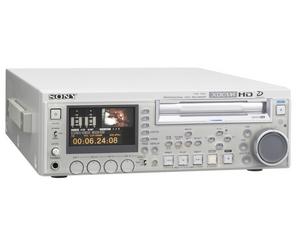 Sony's new HD recorder for medical use
Photo: Company