Toshiba launches second-generation HD DVD players in Japan
Press release, November 15; Emily Chuang, DIGITIMES
Toshiba today announced the launch of its second-generation HD DVD players in the Japanese market. The company will roll out two new players, the HD-XF2 and HD-XA2, from late December.
The new HD DVD players are smaller and offer improved speed in loading and response times over the HD-XA1, which Toshiba introduced to the market in March 2006. The new high-end HD-XA2 supports Deep Color technology, an optional standard under HDMI that improves representation of color tones and achieves finer color gradation.
At 65.5mm, HD-XF2 achieves the industry lowest height of any next generation digital high-definition player (as of November 15, 2006), according to Toshiba.
Through the HDMI interface, high-definition pictures stored on a disc can be displayed digitally in HD, on digital TVs and displays that incorporate HDCP capable HDMI input. Through the HDMI interface, standard definition DVDs can be up-converted to an output resolution of 720p or 1080i (1080p for HD-XA2), to complement the performance of a HDTV. HD-XA2 integrates a 1080p compatible up-scaler and a high performance IP converter that supports Deep Color technology to achieve finer color gradation.
In addition to prerecorded DVD software, the new players support playback of DVD-R and DVD-RW discs. The players are also compatible with music CDs and can play back CD-R and CD-RW discs, according to Toshiba.
Both players offer advanced navigation and interactive features unique to the HD DVD format. A Picture in Picture (PIP) function include the ability to play supplementary video over the main program, allowing viewers to watch bonus content, The players' "pop-up menu" displays movie chapters with thumbnails while the movie plays, and allows users to navigate menu features without pausing playback. HD-XF2 and HD-XA2 support AACS (Advanced Access Content System), the next generation content protection system.
The new HD DVD players comply with the European Union's RoHS directive, which came into force in July 2006.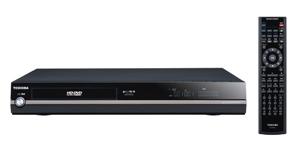 Toshiba's HD-XF2 HD DVD player
Photo: Company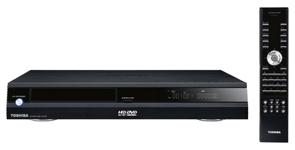 Toshiba's HD-XA2 HD DVD player
Photo: Company