Pioneer unveils new digital tuner-supported HDD/DVD recorders
Press release, September 14; Esther Lam, DIGITIMES
Friday 15 September 2006
Pioneer on September 14 announced the introduction of a series of new digital tuner-supported DVD recorders for the Japanese market. These new DVD recorders with built-in hard disk drives (HDDs) are slated to launch in Japan during mid-October to November, according to the company.
The DVR-RT700D and DVR-DT75 DVD recorders are both equip with a built-in 250GB HDD while the DVD-RT900D and DVR-DT95 are equipped with a built-in 400GB HDD. The company also offers an add-on HDD, the HDD-S400, with a memory capacity of 250GB.
Pioneer highlighted the compatibility of digital tuners in these four DVD recorders. With digital tuner support, the units have the capability to manage digital programs without connecting via a set-top-box (STB).
No suggested retail price has been provided yet.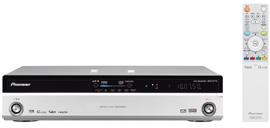 Pioneer's DVD-DT75
Photo: Company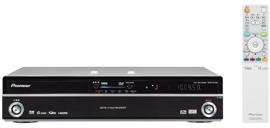 Pioneer's DVR-DT95
Photo: Company

Pioneer's add-on HDD, HDD-S400, with a LCD display screen
Photo: Company