Albatron Socket-754 KM51-series motherboards kick off Chinese New Year
Press release; Jessie Shen, DIGITIMES
Albatron today announced the availability of its KM51 motherboard series, first unveiled in December 2005, for the AMD Socket-754 platform. The two motherboards support Nvidia's latest-generation IGP (Integrated Graphics Processor) chipsets – the KM51PV-754 equipped with the GeForce 6150/430 chipset, and the KM51G-754 with the GeForce 6100/410.
The chipsets used in Albatron's KM51-series boards accesses up to 128MB of system memory, said the company, adding that with DX 9.0c and Shader Model 3.0 standards, the KM51 series will be able to tackle the most popular games on the market, such as Age of Empires III and World of Warcraft.
The KM51PV-754 comes with some of the most advanced digital video facilities and features Nvidia's Pure Video Technology and a video encoder/decoder providing the equivalent functionality and clarity of a high-end DVD player, said Albatron, adding that Pure Video was only seen before in middle-range to high-end graphics cards.
The KM51PV-754 is also fully ready for the future of broadcasted digital TV and supports the newest trends in HDTV, claims the company. With integrated MPEG 2 and WMV9 decoders, the motherboard supports high-resolution 1080i (1920×1080) video, which is more than four times higher than conventional TVs, said Albabron, adding that the KM51PV-754 will have Y/Pb/Pr (Component Video) and DVI connectors.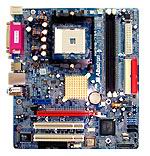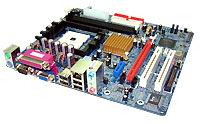 The Albatron KM51PV-754/KM51G-754
Source: Company
Albatron: November 2004 - November 2005 revenues (NT$m)

Month

Sales

M/M

Y/Y

YTD

Y/Y

Nov-05

254

(2.7%)

(50.4%)

2,783

(39.6%)

Oct-05

261

13.5%

(44.6%)

2,530

(38.2%)

Sep-05

230

3.4%

(52.5%)

2,269

(37.4%)

Aug-05

222

(15.5%)

(39.4%)

2,039

(35.1%)

Jul-05

263

127%

(40.7%)

1,817

(34.5%)

Jun-05

116

(42.9%)

(41.7%)

1,554

(33.3%)

May-05

203

(23.4%)

(28.7%)

1,438

(32.6%)

Apr-05

265

(16.4%)

(43.7%)

1,235

(33.2%)

Mar-05

317

9.7%

(36.3%)

970

(29.6%)

Feb-05

289

(20.7%)

(34.2%)

653

(25.9%)

Jan-05

364

8.1%

(17.6%)

364

(17.6%)

Dec-04

337

(34.2%)

(25.9%)

4,943

(9.3%)

Nov-04

512

8.9%

9.4%

4,607

(7.8%)
*Figures are not consolidated
Source: TSE, compiled by Digitimes, January 2006
Albatron: 3Q 2004 - 3Q 2005 revenues (NT$m)

Quarter

Sales

Q/Q

Y/Y

YTD

Y/Y

3Q-05

715

22.4%

(44.7%)

2,269

(37.4%)

2Q-05

584

(39.8%)

(38.7%)

1,554

(33.3%)

1Q-05

970

(26.4%)

(29.6%)

970

(29.6%)

4Q-04

1,319

2%

(15.4%)

4,943

(9.3%)

3Q-04

1,293

35.7%

(17.6%)

3,624

(6.8%)
*Figures are not consolidated
Source: TSE, compiled by Digitimes, January 2006
Albatron: 3Q 2004 - 3Q 2005 balance sheet (NT$k)

Item

3Q-2005

2Q-2005

1Q-2005

4Q-2004

3Q-2004

Current assets

1,352,863

1,219,631

1,754,818

1,926,408

2,104,859

Long-term investments

22,496

22,496

22,496

22,496

18,142

Fixed assets (net)

171,263

223,261

227,187

231,122

233,928

Other assets

13,779

9,081

10,274

12,014

9,806

Assets

1,560,401

1,474,469

2,014,775

2,192,040

2,366,735

Current liabilities

685,391

766,463

1,666,086

1,784,120

1,909,872

Noncurrent interest-bearing liabilities

0

0

0

Other liabilities

740,030

516,367

93,298

80,980

32,886

Liabilities

1,425,421

1,282,830

1,759,384

1,865,100

1,942,758

Stockholders' equity

134,980

191,639

255,391

326,940

423,977
*Figures are not consolidated
Source: TSE, compiled by Digitimes, January 2006
Albatron: 3Q 2004 - 3Q 2005 income statement (NT$k)

Item

3Q-2005

2Q-2005

1Q-2005

4Q-2004

3Q-2004

NT$k

% of sales

NT$k

% of sales

NT$k

% of sales

NT$k

% of sales

NT$k

% of sales

Gross sales

738,335

592,990

980,763

1,343,922

1,314,978

Operating revenue

714,767

96.8%

583,932

98.5%

970,243

98.9%

1,318,747

98.1%

1,293,014

98.3%

Gross profit (loss) from operations

19,556

2.6%

-1,990

-0.3%

-661

-0.1%

40,907

3%

13,740

1%

Operating expenses

59,145

8%

55,134

9.3%

53,618

5.5%

64,294

4.8%

66,183

5%

Operating income (loss)

-40,774

-5.5%

-55,381

-9.3%

-52,312

-5.3%

-20,832

-1.6%

-50,080

-3.8%

Non-operating revenues and gains

9,345

1.3%

4,571

0.8%

7,835

0.8%

7,503

0.6%

2,779

0.2%

Non-operating expenses and losses

20,774

2.8%

8,591

1.4%

28,132

2.9%

77,393

5.8%

24,228

1.8%

Income from continuing operations before income tax

-52,203

-7.1%

-59,401

-10%

-72,609

-7.4%

-90,722

-6.8%

-71,529

-5.4%

Net income (loss)

-52,203

-7.1%

-64,401

-10.9%

-72,609

-7.4%

-100,722

-7.5%

-112,280

-8.5%

Fully-diluted earnings per share (NT$)

0

0

0

0
*Figures are not consolidated
Source: TSE, compiled by Digitimes, January 2006