Taiwan market: BenQ to launch 1.9-cm super slim digital camera
Kevin Hsu, Taipei; Adam Hwang, DIGITIMES
BenQ on November 30 unveiled the X600, a 1.9-cm super slim digital camera with six-megapixel resolution, for launch in the Taiwan market under the BenQ name early in December at a recommended retail price of NT$11,900 (US$355). The camera went on sale in the European and US markets last month.
The X600 features Pentax-developed SMC (super multi-coating) lens technology and a super slim sliding lens system to minimize its thickness to only 1.9cm, according to the company.
BenQ's domestic monthly sales volume of digital cameras has increased from 6,000-7,000 units before this quarter to over 10,000 currently, while its total monthly shipments, including exports, has also risen from 30,000 units early this year to more than 100,000, according to the company.
BenQ X600 digital camera specifications

Item

Details

Lens

Focal length of 6.2-18.6mm; aperture of F2.7/F5.2

Zoom

3x optical and 4x digital

Screen

2.5-inch low reflective LCD of 232,000 pixels

Memory

Bulit-in 23MB; compatible with SD cards

Dimension (W × H × D, cm)

8.55 × 5.35 × 1.90

Weight (not including battery)

130g
Source: BenQ, compiled by DigiTimes.com, December 2005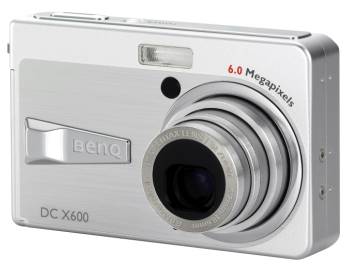 BenQ X600 super slim digital still camera