Mini-box offers sub-US$300 car PC kit based on VIA Mini-ITX board
Press release; Jessie Shen, DIGITIMES
Monday 3 October 2005
VIA Technologies and Mini-box.com, a subsidiary of Ituner Networks, recently announced the VoomPC family of x86 car PC kits for the telematics market. Based on the low-power EPIA-series Mini-ITX mainboards from VIA Technologies, the x86-based PC barebone is specifically designed for the ultra-power sensitive conditions of in-vehicle applications, say the companies.
With prices ranging from US$299 to US$399, the VoomPC barebone platform is ideal for automotive enthusiasts and vehicle manufacturers alike to integrate a wide range of GPS navigation, communication, entertainment and information functionality into private cars or vehicle-dependent professional service vehicles, such as law enforcement, rescue and commercial transport, where access to data on the road is essential, according to the companies.
According to VIA and Mini-box.com, the VoomPC integrates the Mini-box M1-ATX 12V power supply unit to prevent system damage from power surges and eliminate car battery drain by monitoring car battery levels, even when the car is turned off. The VIA C3 processor provides heat dissipation to enable the VoomPC to consume between 15-30 watts, less than the dimmest car parking lights, claim the companies.
The VoomPC also features advanced audio control, with 'anti-thump' technology that keeps car amplifiers turned off while the PC starts, eliminating annoying speaker thumps and pops, while the VIA Vinyl Audio Six-TRAC audio codec enables stunning six-channel surround sound for a more authentic listening experience with greater depth, the companies stated.
Compatible with Linux or Microsoft Windows operating systems and built within Mini-box's compact 21x25x6.7cm chassis, the VoomPC is equipped with rich peripheral connectivity, multimedia and telematics options afforded by the VIA's EPIA Mini-ITX mainboard, including USB2.0, Firewire, Ethernet, PCMCIA types I and II CardBus interface for GPRS or WiFi, S-Video, VGA and six-channel audio, said the companies.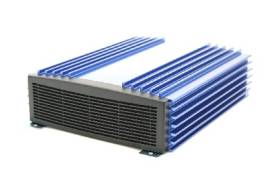 The VoomPC
Source: Mini-box.com