Apple iPod Shuffle lookalike continues drawing attention
Eric Fan, Taipei; Emily Chuang, DIGITIMES
Although Apple was able to temporarily banish Luxpro's Super Shuffle MP3 player at CeBIT this year, Taiwan-based Luxpro is openly displaying its latest MP3 player, the MX-585D at Computex 2005.
The model bears more than a passing resemblance to Apple's iPod shuffle.
With a 64×48-resolution OLED display, the latest model also supports Digital Rights Management (DRM). It is compatible with three audio formats, including MP3, WMA and WAV. The model charges to 80% of capacity in just two hours and offers continuous use for 10 hours on a full charge, according to the company. In addition, the model supports 10 different languages.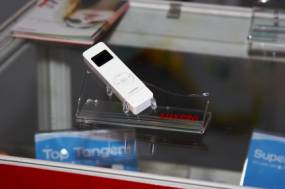 Luxpro's MX-585D MP3 player.
Photo: Eric Fan, DigiTimes.